New Prototype 2 Developer Diary Shows Off the Hunting Mechanic from the New Title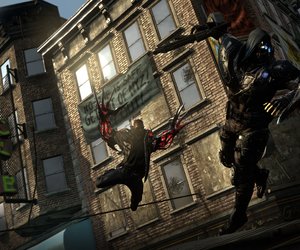 Way back in June of this year, we got some hands on time with the action sequel from Radical Entertainment – Prototype 2 – and put together a preview for all of you loyal readers,and got to flesh out the details of the storyline a bit more clearly.
The latest Developer Diary from Radical Entertainment has just been released, where the devs go in-depth with the new Hunting Mechanic from the game -which allows gamers to hunt down their targets, before consuming their essence and memories. This is all linked in with side missions where the players is attempting to eliminate everyone involved with particular special ops.
The video also goes on to outline the reward that players get for successfully completing these side missions – known as Mutations. These take the form of a series of character upgrades whereby gamers can tweak and alter the skills and abilities thay can use in-game. All of these ideas of touched upon in the video – where some interesting new abilities are illustrated, that won't disappoint. The game seems even bigger and more over-the-top than the last Prototype title, so fans of the series should get ready for some high-adrenaline action.
Check out the new moves below:
Prototype 2 is due for release on April 27th 2012 on Xbox 360, PlayStation 3 and PC.