XCOM Preview

If the name XCOM doesn't ring any bells then no need to worry. The XCOM series has never been a commercial hit, but has enjoyed a cult following among dedicated fans since its inception in 1994. Sixteen years later, and 2K Games are trying to give the title a new lick of paint to bring the franchise to the mass market with a reboot to the story. We got a chance to see the game in action recently and were pleasantly surprised by what we witnessed.
The game will be set in 1962 and puts you in the shoes of agent Carter. Aliens have infiltrated the planet and it's up to you to do something about it. The first thing you will notice is the perspective shift from a top down isometric view to first person. Now, before you scream out in protest, you will still be able to get an overview of the world map from headquarters where you will be able to select between main and side missions at will. Despite the shift in perspective, we were assured that the team were doing all they can to retain the espionage feel of the series as well as adding several RPG elements.
On your missions you will have a chance to recruit up to eight team members to fight beside you, each of them able to level up and bring a different skill or perk to proceedings. Unfortunately, at this time, specifics for the leveling system were not available.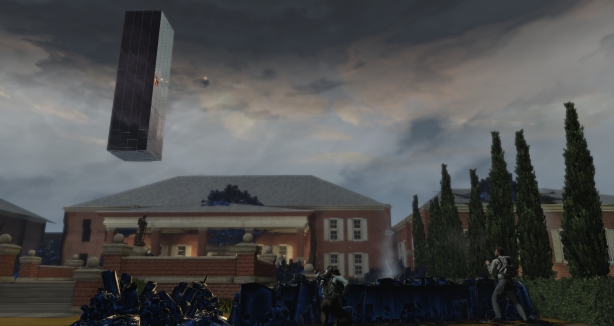 What most impressed us in the demonstration was the use of tactical team play. In one section we were shown a flanking manoeuvre, while another member of your team supplied covering fire. This tactical aspect was confounded by the enemy's ability to adapt to the players tactics and prioritize targets, all but eliminating the effectiveness of the run and gun play-style. To help you execute your orders, you can make use of the tactics wheel (Mass Effect style), establishing targets and setting which abilities to use where, while the game slows down giving you time to set things up.
To keep things interesting, players will have the chance to procure enemy technology in the field using the performing system that works like a digital backpack and allows you to literally warp the tech with you. The fun comes from deciding whether it is more beneficial for you to deploy this tech on the field in your current mission for instant gratification, or to take it back to base where you can research it for better upgrades.
It would be fair to say XCOM snuck up on us from behind and we were more than surprised at how solid it is looking. If you are looking for something you can go all guns blazing in with minimum though on your part, XCOM might not be going to offer you too much. On the other hand, if you appreciate a little more tactics and espionage in your gameplay then XCOM could be right up your alley. Only time will tell.
XCOM is due out in March 2012 for Xbox 360, PlayStation 3 and PC.