Call of Duty: Modern Warfare 3 – A Behind the Scenes Look at Strike Packages
Activision has today released a behind the scenes look at the Strike Packages to be found in Call of Duty: Modern Warfare 3. In the video, Mark Rubin, Executive Producer at Infinity Ward discusses why there will be changes in Modern Warfare 3's multiplayer. "We took a look back at Modern Warfare 2," he said. "We realised we made the game for one type of player. The player with the high kill count, low deaths." Rubin continued.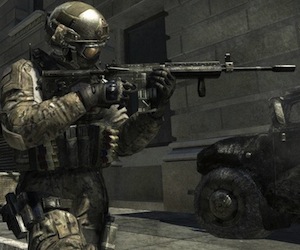 The aim of the Strike Packages and the new Point Streak system that we will see in Modern Warfare 3 is to level out the gameplay so there is something for everyone. Assault Strike Package will suit the players that still love to rack up those kills, while Support and Strike Packages will suit those that prefer the team or perk elements of Call of Duty.
You can refresh your memory about these modes by reading our run down of the multiplayer details in Modern Warfare 3. Up until now, we have only had the chance to play Spec Ops in Modern Warfare 3, and we enjoyed it very much and can't wait to see just how much the main multiplayer has changed this time around.
Check out the clip for yourself, there is a fair amount of gameplay in there to feast your eyes on, as well as some insight from Infinity Ward and Sledgehammer Games staff.
What do you think of the new reward scheme for Call of Duty: Modern Warfare 3's multiplayer? Let us know in the comments.
Call of Duty: Modern Warfare 3 releases November 8 worldwide for Xbox 360, PlayStation 3 and PC.