Dungeons and Dragons: Heroes of Neverwinter Claim the Rights to Third Fastest Growing Game on Facebook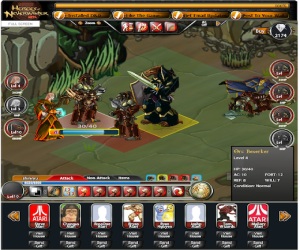 What can be called the origin of role playing games, has shown that on whatever platform it chooses to appear on, it will stand a chance to dominate.
Recent AppData has shown that Dungeons and Dragons: Heroes of Never Winter, has become the third fastest growing game on Facebook
This is clearly a match made in some form of fantasy based heaven. To celebrate such a pairing, Atari have conjured up some DLC perfectly suitable for this witching month.
The DLC includes more Skeletons, Zombies, Curses, Ghouls and the bravest Heroes of Neverwinter. Here is a full list of the new content additions:
A free Underdark Cookie, added to each player's Chest of Wonders, which permanently increases one character's maximum hit points.
Potently powerful potables and treats, including Zombie Juice, Potions of Black Cat's Grace, Glyphs of Terror, and more.
New dungeons to claim rare and wondrous items, including wearable masks, a Skeletal Crossbow, and high level rings.
A sinister Thayan plot in a new three-part adventure series (Level 1: Bones, Thugs and Sorcery can be found in Neverwinter, Level 5: Trick or Trap can be found in the Ruins of Illefarn, Level 10: Monster Mash can be found in the Neverwinter Woods).
A seasonally revamped town hub, along with a variety of other game updates and improvements!
What do you think? Is this a breed of game that has lost its way? Do you feel that it's time for Dungeons and Dragons to step aside and retire amicably? Is the version on Facebook something that interests you? If the AppData is correct then it clearly has a whole host of fans who will be happy to see this new content arrive.
Dungeons and Dragons: Heroes of Neverwinter is available on Facebook now.