Grand Theft Auto Five (GTA V) Officially Announced to the World
In a sneaky little way, and without any kind of fanfare. Grand Theft Auto Five (GTAV) was announced to the world today. There's nothing in terms of information that we could possibly give you at this stage but the fact is that the game that we all knew was in existence, due to leaked casting calls and the like, is now officially confirmed to exist.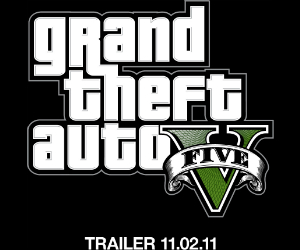 The only thing that the website has confirmed for all of you people that were eagerly awaiting any news at all about what Rockstar Games would be doing next, especially when it concerns the highly controversial Grand Theft Auto series of games, is that a trailer will in fact be available from the 2nd November, 2011. That's only a week away.
Just think about it, by next weekend you could have had your eyeballs filled with the glory of GTAV, but until then you can look at the admittedly sexy logo over at www.RockstarGames.com and be sure to check back here on the 2nd November, 2011 to see that trailer. You can be sure it'll be here.
What do you think about the latest announcement? Are you excited? Did you expect it? What do you think about how they announced it? Let us know in the comments below…