An Evening With Ezio: A High (Soul) Calibur Event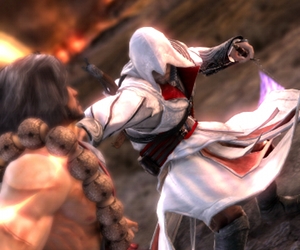 A Ubisoft/Namco Bandai-led celebration of Assassin's Creed's Ezio Auditore took place this past Wednesday, in an incredibly memorable evening of Assassins, Freemasons and fellow Games Journalists.
The evening took place in a hotel built in 1884 by the Great Eastern Railway Company (who had build the adjacent Liverpool Street Station in 1874); this hotel had been in business for over a century, until it's closure in 1996. Reopening in 2000 after a refurbish, this re-branded hotel wouldn't feel out of place within the futuristic world of Deus Ex.
Hidden in the depths of this large building, is a pristine Masonic Temple. This elegant, nay, extravagant room was built by Freemasons in 1912 for the equivalent of around £4 million; created with mahogany and 12 different types of expensive Italian marble. At some point this Grade II listed room was boarded up and forgotten about; rediscovered when the hotel itself was refurbished within the last two decades.
What better place to celebrate the life of a character, who, through his travels has fought Templars and other secret societies? Who knows what hidden history had been made there over the past century?
Upon entering this room, a series of televisions are spraying light where dim candlelight does not. Some of these screens are connected to Xbox 360 & PlayStation 3 units running Assassin's Creed: Revelations; others were almost dwarfed by huge Hori arcade sticks, in front of the familiar Soul Calibur logo. The series' fifth instalment was here and our favourite Italian assassin was making a guest appearance, tussling with Ivy, Voldo and the rest of Namco Bandai's brawling heroes.
I've dabbled with the series in the past; I had Soul Calibur 2 on the GameCube, mainly because of the appearance of Link as a guest character and I also briefly owned Soul Calibur IV (If you hadn't noticed, I am a sucker for fanboy-baiting cameos, crossovers and guest appearances).
I have a strange relationship with fighting games – I love playing them, but unfortunately I am incredibly crap at them, not having the time or dedication to become good at them. Needless to say I was apprehensive about picking up one of these hulking joysticks and embarrassing myself in front of my peers. With a printout of moves in front of me (and a helpful Namco Bandai rep as my opponent), I immediately picked my main man Ezio and got to work.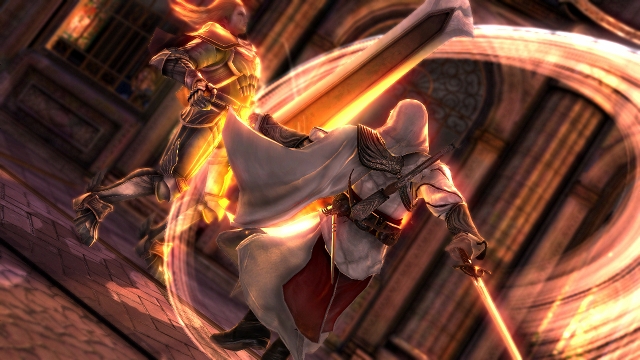 The thing I noticed about Soul Calibur V is that it is surprisingly accessible for those who, like me, have dabbled with the odd fighting game here and there, but find the more technical fighting games a daunting experience. The game makes it easy for people like me, to just experiment with button combinations and still hold their own against the average player. While you won't be an expert without putting the time in, you'll still be able to enjoy the game and feel like you are gradually improving. It helps, that like previous games in the series battles turn into beautifully choreographed fights, where the almost ballet-like moves makes matches look so exciting; the spectacular Critical Edge moves in particular, are a sight to behold.
Back to the man of the evening, Ezio. His appearance in this new Soul Calibur title makes more sense that any previous guest star in the series (even more so than my beloved Link). Aesthetically, Project Soul have done a great job of transferring Ubisoft's star into a character that not only fits the world, but compliments it. Wielding weapons such as a pistol and his trademark Hidden Blade, this is a version of Ezio at a time where he is in the prime of his life – athletic, agile and incredibly deadly; his proficiency and familiarity with his tools of the trade make him a versatile fighter, suitable for ranged and close-quarters combat.
After our introduction to Soul Calibur V, we had the pleasure of watching Assassin's Creed: Embers; Ubisoft's short piece of computer generated animation. Set well after the events of Revelations, Ezio is now even older and living the quiet life with his family in Tuscany, having left the Brotherhood long ago. This well earned rest is disturbed when an assassin from lands far away requests help and mentoring from the weary Ezio, as her own people and assassin order are threatened.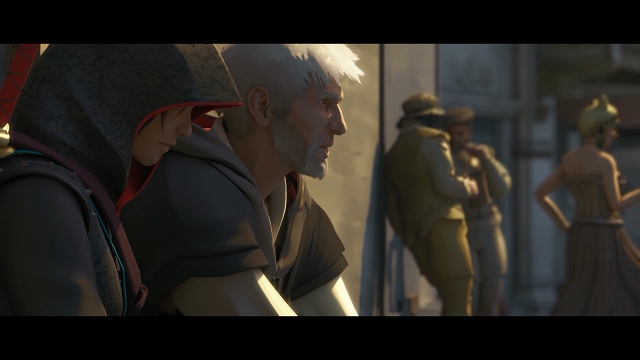 An interesting expansion on Ezio's story in Assassin's Creed II, Brotherhood and Revelations, we see a man who is facing his twilight years. No longer is he the impatient and impulsive lad he was when we first met him – he has grown wise and thoughtful, but frail and not necessarily aware of the limitations of his ageing body. A loving father and husband, he now understands the meanings of the life lessons he learnt as an assassin, and it is this understanding that drives him to help this young Brotherhood member.
Embers is a wonderful piece of animation for those who are fans of the lore. It is the conclusion of Ezio's story arc that I would have happily sat through as a full length movie. This short film has a unique style, almost cel-shaded and noticeably Gallic in design; although the animation itself is quite exaggerated and almost a bit too cartoon-like. However, it is a glimpse of Ubisoft's future as an animation studio and I am interested in whether they will continue to expand their video game universes into this medium (after the recent release of Origins, Rayman is screaming out for an animated adaptation), or potentially create original works that could be standalone pieces, which could be adapted as video games in the future.
After this short interlude, the evening once again shifted to Soul Calibur V, thanks to a tournament-based brawl. A series of attendees fought each other to win a signed piece of Soul Calibur V artwork, and as expected I let the GodisaGeek crew down, becoming the recipient of an embarrassing 5-2 beat-down, featuring an incredibly bad perfect loss, prompting people to ask me if I knew what the block button was.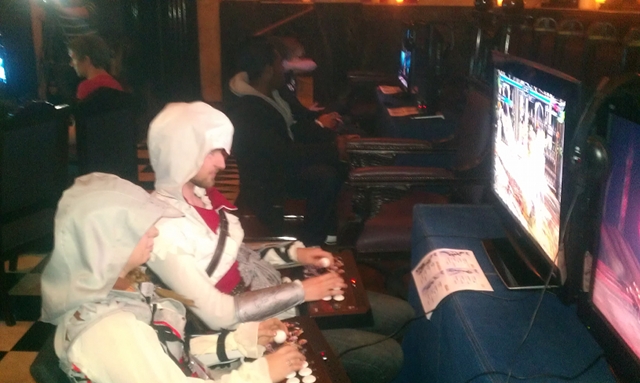 The entire experience made for an interesting and fun evening. We celebrated Ezio's youth in Soul Calibur V, his transition to a middle-aged man in Assassin's Creed: Revelations and his later years in Assassin's Creed: Embers.
Assassin's Creed: Revelations is out now on Xbox 360, PlayStation 3 (A PC version is released on 2nd December). Assassin's Creed: Embers is available as a DVD with select versions of Assassin's Creed: Revelations, or as a digital download on the Xbox LIVE Marketplace or PlayStation Network Store. Soul Calibur V is released in Europe on 3rd February, 2012.