GAME & gamestation Announce Their Modern Warfare 3 Launch Tactics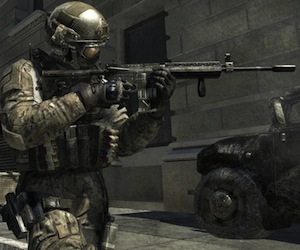 Two of the UK's biggest gaming retail chains, GAME & Gamestation are preparing 574 of their stores for the midnight launch of Call Of Duty: Modern Warfare 3 – The year's biggest gaming release.
In addition to a large quantity of their stores being open as soon as the clock strikes 00:00 on Tuesday 8th November, GAME's flagship Oxford Street, London store will once again be hosting a very special launch event.
Fans willing to brave the cold streets of London will be rewarded with the chance to grab all sorts of official Modern Warfare 3 merchandise, as well as be in with the chance of winning some amazing prices; including a Samsung television that will go to one lucky winner!
Other events happening during the Oxford launch is a special green screen that will allow Call of Duty fans to have their picture taken and superimposed into scenes from the game itself – A great memento to take home as a reminder of the evening!
"With this year's Modern Warfare installment being bigger and better than ever before, we wanted to give our customers the most exciting midnight launch possible." says Neil Ashhurst, head of UK PR at GAME.
I'm sure fans of the game are sure to agree when the game hits shelves on Tuesday 8th November.
For more details please see www.game.co.uk and www.gamestation.com to see if your nearest store is taking part. Those who are happy to stay at home are just as welcome to preorder the game instore or online.
Check out GodisaGeek.com's coverage of the game here, as well as Terry's Preview.