Midnight Launch for The Elder Scrolls V: Skyrim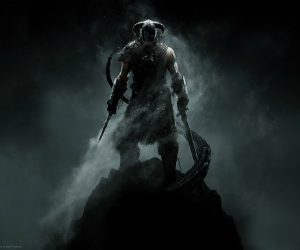 Are you excited for The Elder Scrolls V: Skyrim? Want the chance to play it in the early hours of Friday 11th November before everyone else even opens their bleary eyes?
If this proposition sounds appealing to you then perhaps you'll be interested in the fact that GAME on Oxford Street in London, and gamestation on New Street in Birmingham, will both be holding midnight launches of Skyrim, with the game going on sale at 00:01 on 11th November.
That's not all though. The first 250 people in the queue at each store will receive a mystery Skyrim goodie bag, whilst those who form the first 100 of each queue will also get their hands on a Skyrim strategy guide and music CD. Given how eager some fans are for Skyrim, I predict those 250 winning spots may fill up pretty quickly so it's best to head down early if you want to be in with a chance.
If you join the queue too late to win one of the prizes mentioned above, worry not! You can still win an Xbox 360, a free upgrade to the Skyrim collector's edition, Skyrim t-shirts, the strategy guide, music CD and goody bag if you come dressed to the event in Skyrim cosplay and impress the staff enough with your costume. Four costumed runners up will receive everything listed above bar the Xbox 360.
Those fans who attend the launch at GAME on Oxford Street in London will also have the chance to have their picture taken with a life-sized Elder Scroll.
To wet your appetites further for Skyrim before it's release on Friday, here's the latest video from Bethesda. Titled 'Making a Dragon Sandwich | The Sound of Skyrim', the video contains a podcast with Mark Lampert, Bethesda Game Studios Audio Director, as well as an extended developer diary, which gives fans an inside look at the music, sounds, and voice talent in The Elder Scrolls V: Skyrim.
The Elder Scrolls V: Skyrim is due for release on 11th November 2011 on PC, PS3 and Xbox 360. It is the latest entry in the long-running Elder Scrolls series.