Modern Warfare 3: The 'Biggest Entertainment Launch Ever'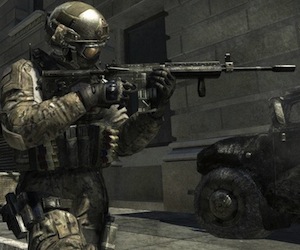 I'm not sure if you noticed but Call of Duty: Modern Warfare 3, the latest entry in the long-running series, launched earlier this week. There was even a party to celebrate it's release.
Activision have since released the North American and European sales figures for Modern Warfare 3, and suffice to say they are rather staggering.
An estimated 6.5 million copies were sold within the first 24 hours of the game's release (according to Charttrack and other sources), resulting in a sell-through in excess of $400 million, making the launch of Call of Duty: Modern Warfare 3 the biggest entertainment launch ever.
In comparison, Black Ops had an estimated first day sell-through of $360 million in 2010, whilst Modern Warfare 2 posted a sell-through of $310 million back in 2009.
Bobby Kotick, CEO of Activision Blizzard, had this to say about Modern Warfare 3's launch:
"We believe the launch of Call of Duty: Modern Warfare 3 is the biggest entertainment launch of all time in any medium, and we achieved this record with sales from only two territories.

Other than Call of Duty, there has never been another entertainment franchise that has set opening day records three years in a row. Life-to-date sales for the Call of Duty franchise exceed worldwide theatrical box office for "Star Wars" and "Lord of the Rings," two of the most successful entertainment franchises of all time".
More money than Star Wars and Lord of the Rings? The Jedi are surely going to feel that one, although it does go to show just how much money there is in the video game industry.
And I get the feeling this isn't the only record that Modern Warfare 3 will be setting. These figures are only from the first 24 hours of it's release, and if the game keeps selling at this phenomenal rate it could be one of the best-selling games of recent years.
We don't yet know how many of the 6.5 million units sold were the special Hardened Edition, featuring a year's subscription of Call of Duty Elite, but we expect further details when the problems with Elite have been ironed out. The Modern Warfare 3 Hardened Edition is currently available from Tesco Direct for £69.99.
Call of Duty: Modern Warfare 3 is available now for PC, PS3 and Xbox 360.