Nintendo Announces Circle Pad Pro & Resident Evil: Revelations Coming on the Same Day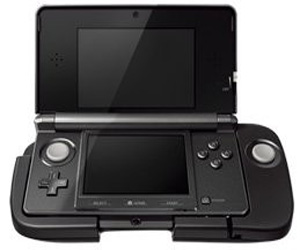 Nintendo fans are a tricky bunch to please. When the 3DS was launched, the lack of a second analogue, or "circle pad", infuriated many. To rectify this, the Circle Pad Pro will be available to buy from all good, rubbish and indifferent video game paraphernalia stores on 27th January 2012.
The Circle Pad Pro will be an attachment that will give 3DS users that extra analogue that they've wanted since the system's inception. The 3DS add on launches at the same time as Resident Evil: Revelations for 3DS. Revelations will be one of the first games to use the Circle Pad Pro and I'm sure more will soon follow. You will be able to pick up the Circle Pad Pro on its own from the aforementioned date or you can pick up both the peripheral and Resident Evil: Revelations in a sweet bundle. No prices as of yet, but stay locked on GodisaGeek.com for more info.
Resident Evil: Revelations happens in 2005, between the events of the popular Resi 4 and controversial Resi 5. We are believed it's going to focus on the more scary, atmospheric nature of the older Resident Evil games rather than the action packed shooter that was Resident Evil 5.
Excited for Resident Evil: Revelations? Ecstatic over the fact you'll finally have a right circle pad? Let us know in the comments below.
Resident Evil: Revelations is set for release on 27 January on Nintendo 3DS.