Atari Classic Breakout is Almost Ready to Boost on to iOS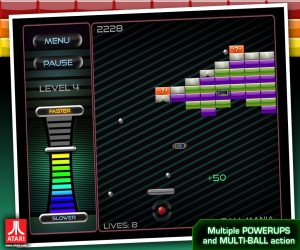 The classic 1970's Breakout has gone under the proverbial knife and awakened with a host of new updates. Any of you lucky folk with an iPhone, iPad or iPod touch, will be able to get your hands on the new Breakout: Boost very soon.
To keep up with the ever changing field of gaming, gamers will be able to pick up Breakout: Boost for free (well mostly). 5 levels come free with the initial download, the next 200 will be available through in-app purchases.
Stamping the Atari seal and silencing all of the imitation games trying to ride on its success, Breakout: Boost's trump card is also included in the title. As you play you will be able to alter the speed of your ball. The faster you go, the higher the score multiplier! Playing at top speed is sure to be a challenge relished by the hard core addicts around the world and a great source of competition between friends using OpenFeint and Game Center (Both are best described as mobile gamings answer to Xbox LIVE).
Boost capabilities are not the only tweak. A plethora of new bricks, layouts, and power ups await. Grenade, Fire and Acid Balls, Mystery and Explosive Bricks, Breakout: Boost sounds like it will make even the oldest veteran feel like a new recruit.
Breakout: Boost will be available on iPad, iPhone, and iPod touch soon.