Pro Evolution Soccer 2012 3D Review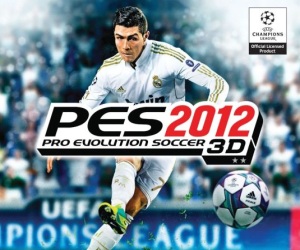 Game: Pro Evolution Soccer 2012 3D
Developer: Konami Computer Entertainment Tokyo
Publisher: Konami
Available on: Nintendo 3DS only
With the war over and the dust now settled between the two gaming giants of football, many people will have different opinions as to what their favourite of the two games was. Some may have switched sides or some may have their allegiance to the brand fortified. Can these arguments be the same when it comes to handheld gaming? Whether it be on the Nintendo DS/3DS or the PSP, these experiences are usually a watered down version of the game and, in some instances, gamers prefer the handheld experience because it is a simpler and more of an enjoyable football experience. However, on the other hand, some gamers find it just to be a too simple version that doesn't play as well as the console versions.
Well now we have PES 2012 making its stamp on the Nintendo 3DS, which allows you to play the game in stunning 3D, but is this still a watered down experience or have the developers made something special that allows handheld gamers to have an experience that could potentially rival the console versions? There is only on way to find out!
GRAPHICS: As you would expect, the handheld version's graphics will be nowhere near as good as the console version, but it certainly gives it a good go. The opening FMV is almost as good as the console versions and the in game graphics are very well rendered. They may not have that HD look like the consoles, but it looks very crisp and well designed with the players looking like their real life counterparts and the pitches and stadiums look beautiful. This reviewer is also happy to report that the 3D aspect is very good and looks stunning in game however, you only have the 3D capability whilst playing, and not in the menus or FMV's which is a shame, at least for the FMV's as that would've looked spectacular. The only problem with the 3D aspect in game is that the radar and subtitle box seems a little too close and can be a distraction whilst playing. If they had put these one layer back for example it would've suited the game and not grab your eyes' attention, but sadly this is not to be. The best time to use the 3D is in the replays after a goal has been scored, as it looks amazing and you have the same replay options as you have in the original game but obviously now in 3 dimensions! Graphically then, this almost seems like a direct copy of the console version. It may not be in HD but it still looks wonderful and the 3D (which has some minor flaws), looks excellent.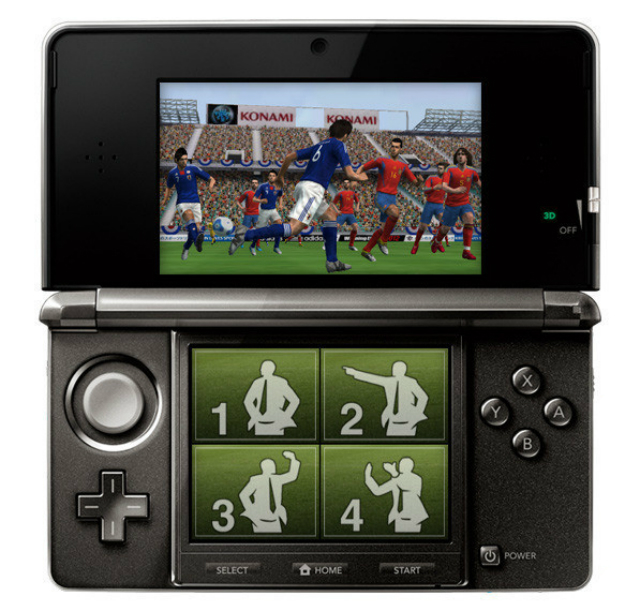 SOUND: The developers seem to have directly ported the sound across from the console versions, with the crowd and stadium effects along with the in game sounds being as you would expect them. The commentary, which is once again with Jon Champion and Jim Beglin at the reigns, is still ropey at best and feels like random sound bites that doesn't assist the flow of play whatsoever. The game now has a rocky sound track which complements the game and seems to suit it in an odd way and isn't annoying like the music in FIFA 12. It won't blow you away but it adds to the atmosphere that this title gives you in spades.
GAMEPLAY: Usually in the handheld versions of football games, you only seem to get an exhibition mode along with a cup or league mode, which is usually uninspiring and nothing like the console version of the game. But with PES 2012 3D you almost have all the modes that you have in the console versions in full! You have your bog standard exhibition, league, cup and training modes, but you also have the world famous Master League in full, as well as Become a Legend (where you create your own player and start a full football career), World Player (which is essentially Be a Pro mode from FIFA with real players instead of a created character) and the UEFA Champions League and Copa Santander Libertadores in full! So with all these modes, handheld gamers for once can experience almost the full console experience in all its glory.
All of these modes play well and exactly like its console counter part, but do have some niggles. For example, in Become a Legend (BAL) mode, if you find yourself on the subs bench (and you will, especially at the beginning) you have to watch the match in full. You have the option to speed the game up until you come on the pitch but it would be nice to speed things up by simply starting the game when you come on. Obviously it wouldn't be realistic for a 17 year old new kid to go straight into the starting line up, but it does take a little time to get into the first team even if you have been smacking loads of goals in left right and centre while also being a massive team player. Instead you have to sit there and wait until you get your chance, which adds to realism but it would be better to start a game the moment you come on, with whatever goals have been scored, to allow you to make your own mark on the game. With regards to the two famous cup competitions, they are an exact replica of the console version but suffer from the same draw backs (i.e. last years mode but with new sponsors stapled on).
Now, you will probably be asking yourself how it plays, and you will be glad to know that it plays very well and, perhaps, even better that the console version. When you play on the consoles, the controls have always felt like you are playing with a D-pad instead of the usual stick, and the player movement seems quite clunky at times, but with this version, playing with the stick actually feels like you are playing with full stick control, giving you the extra confidence to go on that blinding dibble towards goal. Shooting wise, it still feels as good as the console version and is extremely satisfying when you blast home a screamer of a goal. The A.I. seems pretty decent and will play with and off you, but occasionally your team mates do not make use of space or go on a defence splitting run that is so clearly obvious to you. Nit picking this may be but all football games suffer from this at times and happily this version doesn't always do this, so you can forgive it.
The actual gameplay is once again a direct copy of the console game, but with tackling you do not have the jockey and hold up play buttons. You simply have the original hold B to apply pressure or Y to get a team mate to tackle. This may be a step back from the new game but purists will no doubt be happy with this choice. Dribbling wise you can still execute feints with different combinations of movements with the L button, but as you have a touch pad on hand you can preload feints, or even strategies, with four slots available to you. This allows you to pull off a trick in milliseconds or instruct your team with what you require them to do. The passing system is not too bad but sometimes you will find them going wayward and back to the opposition, which can be annoying. PES 2012 3D's gameplay does have some flaws that copy its console counterpart, but in some cases this version seems to play better. However, this is for the player to decide ultimately, but in general it is a brilliant effort.
MULTIPLAYER: As this is the 3DS version, the online capabilities will obviously not be as good as the console version. By selecting Network mode on the main title screen, you have a series of matches to choose from, the first being Online Match which is where you use a Wi-Fi connection to play against a friend or a random opponent. The next option is Wireless match, where you can play a 1v1 match against a nearby opponent using local play. The final match type you can use is StreetPass match, where you can take on other users teams which you have received in the Nintendo 3DS's StreetPass function. With all of these matches you have the Divisions ranking system, which allows you to play players of a similar skill and then, as you progress with wins, you go up the division table. However, you can also go down divisions by losing so make sure your football technique is top notch!
The online features are great to play and I experienced little to no lag when playing online. This may obviously differ from person to person, but it is great to play a football game with no lag as the majority of football games do suffer from this and it can ruin the experience for some. All in all, an excellent effort when it comes to online play.
LONGEVITY: PES 2012 3D has plenty of modes to enjoy with lots of depth to them and will have you playing for months, and the online features will have you playing for even longer. This is perfect for that quick match on the commute to work or in break times whilse also being big enough to take up an entire evening of gaming, with Master League and BAL more than likely taking precedence over the other modes and, because these modes are huge, gamers who are fans of football and handheld gaming will most definitely be playing this for months. More than likely until the next instalment of PES is released.
VERDICT: Konami have done a wonderful job of porting this title to the Nintendo 3DS and have given you a football experience on a handheld device like no other. There are some problems and niggles with it, like the radar and subtitle boxes being too far forward when viewing it in 3D, and you have to wait around during some modes, but the gameplay, 3D visuals, Master League, BAL, Cup tournaments and online features are top draw and a credit to the developers. They haven't watered it down and you have almost every aspect from the console version and in some cases it plays even better than them!
It is very heart warming to see that developers are ensuring that the handheld version of a highly loved title has had the same attention brought to it, and the fact that it plays like a dream is an outstanding achievement. Lets all hope that next year's instalment of PES is an absolute blinder as well!