Blazblue: Continuum Shift Extend is Complete Package for Fans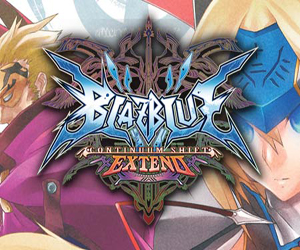 Arc System Works Europe and PQube have confirmed that BlazBlue: Continuum Shift Extend will include the original Calamity Trigger story, making it the complete package for all BlazBlue fans. The game will feature new and updated animations in cutscenes of the original BlazBlue: Continuum Shift, which was released in 2010 for PS3 & 360. Along with that, all DLC for the game is included as well as a new theme song, "Celestial Light" by artist, Faylan.
Features in the game include;
23 individual stories, exploring the characters and universe of BlazBlue.

• Each character has their own tale to tell – along with multiple endings.

• Finishing each character's story mode, unlocks a final story that gives players the 'True Ending' to the epic BlazBlue story.

• Two bonus stories 'Sector Seven' and 'Academy' give players insight into the two main factions of the BlazBlue universe for the first time on home console.

• 'Teach me Miss Litchi' and 'Help Me Prof. Kokonoe' comedy skits return, using Chibi characters to provide greater detail to the world of BlazBlue!

PLUS! Brand new stories for Makoto Nanaya, Valkenhayn R Hellsing, Platinum the Trinity and Relius Clover. Experience these characters' stories for the first time in BlazBlue Continuum Shift Extend.
[nggallery id=716]
 BlazBlue: Continuum Shift Extend is set for release in Q1 of 2012 for Xbox 360, PlayStation 3 and PS Vita.