Live Long And Prosper – As A Millionaire?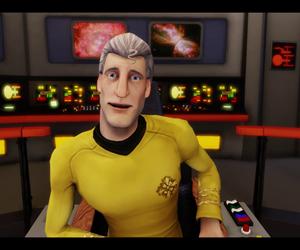 Deep Silver, doublesix digital and CBS Consumer Products today revealed the Star Trek: The Original Series – Who Wants To Be A Millionaire? Special Edition for PlayStation 3 and Xbox LIVE Arcade for the Xbox 360.
This edition is the second big brand edition for the Who Wants To Be A Millionaire? Special Editions series. It is being produced in cooperation with 2waytraffic International, part of Sony Pictures Television, which owns and licenses the Who Wants To Be A Millionaire? format around the world. It will be available to fans worldwide except North America, Canada and Mexico.
The Who Wants To Be A Millionaire? studio is set aboard a Constitution-class starship bridge; the host, audience, lifelines and contestants are all themed around the original Star Trek series. Players can choose from four avatars – Lt. Uhura, a Vulcan officer, a human cadet and an Orion slavegirl. The Phone-A-Friend lifeline also features eight characters from this iconic science-fiction universe.
Based on the world's most successful TV game show, Who Wants To Be A Millionaire? Special Editions retains all the excitement and atmosphere of the original program.
Contestants participate in the Fastest Finger First round and then scale a mountain of questions in the quest for that elusive virtual million, making judicious use of the three classic lifelines – Fifty-Fifty, Ask The Audience, and Phone-A-Friend. It's a social experience, too: up to four friends can compete locally to outdo each other, with each person's score dependent on their speed.