Modern Warfare 3's Season of Content Starts Now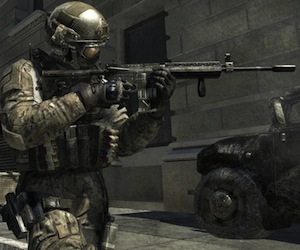 If you love Modern Warfare 3 (and let's face it; judging by the sales figures, statistically, that is incredibly likely) then you may well want to prepare for 9 months of downloadable content, starting right now. Provided you have an Elite Premium subscription, that is.
Activision has unleashed the first two installments of 20 Call of Duty Elite Content Drops, with two new maps that are a timed exclusive for Call of Duty Elite Premium subscribers on Xbox LIVE:
Liberation – A militarised Central Park in the heart of NYC, featuring a vast landscape ripe for long-range sniper and LMG kills. Mounted turrets on opposing ends of the map offer overwhelming firepower to anyone brave enough to man them.
Piazza –  Set in an idyllic seaside village, Italian getaway gone rogue, where blind corners and a complex network of branching pathways pose danger at every turn. Visceral close-quarters combat dominates in Piazza, and attacks from above and below are an ever-constant threat.
To accompany the new downloadable content, Activision are holding a screenshot contest until the end of the month, with real-world prizes up for grabs.
For those without an Elite Premium subscription, you'll have to wait a little longer to get a taste of these new maps. These maps will be available to standard Xbox LIVE gamers in March, when these maps are released as part of the first Modern Warfare 3 Content Collection.
While this news only applies to Xbox LIVE, we have been told that these downloadable items will be available for other platforms at a later date.