Mortal Kombat Komplete Edition is Koming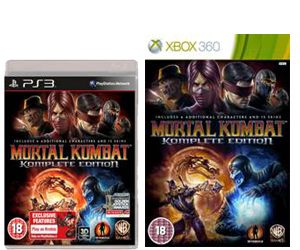 WARNING: The following will have the letter "k" at the beginning of every word that normally begins with a "c".
Warner Bros. Interactive Entertainment have announced that one of 2011's biggest fighting games is getting a re-vamp and will be released on 2nd March of this year. Mortal Kombat Komplete Edition will be koming to Xbox 360 and PlayStation 3 with some big incentives to grab players that may have missed out first time round. Martin loved the first incarnation of the re-booted Mortal Kombat and if you were still on the fence about getting it, this may seal the deal.
On the disc, there will be the game that sold over 3 million kopies worldwide, along with all of the previous DLC that has kome out for the game since its release last year such as the kharacters, Skarlet, Kenshi and Rain. The man who loves to wear Dennis The Menace style jumpers, Freddy Krueger, will also be back to slash up some poor souls in the game. For those who love nostalgia, the 15 Klassic Skins and 3 Klassic Fatalaties (Sub Zero, Scorpion and Reptile) are also bundled in.
That's it for UK gamers, but North American MK fans get the most mental of add ons that I love. Within the box, there will be kodes to download the album that koincided with the game; Mortal Kombat: Songs Inspired by the Warriors…and…a kode for the 1995 Klassic film, Mortal Kombat. I'm genuinely gutted we aren't getting these kherries on top…but the kherries we are getting are still pretty sweet.
Mortal Kombat Komplete Edition is set for release on 2nd March for Xbox 360 & PlayStation 3