Play the Kingdoms of Amalur: Reckoning Demo; Get Shiny Things for Mass Effect 3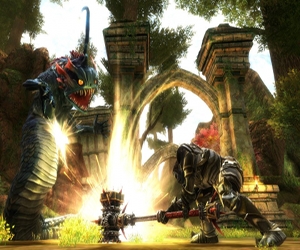 What does the fantasy world of Amalur and spacefaring Spectre Commander Shepard have in common? At first glance you may believe that the two don't have much in common, but 38 Studios and BioWare have revealed there is more than meets the eye (but not in a Transformers sort of way, though that would be pretty special) between the two.
January 17th will see the release of the Kingdoms of Amalur: Reckoning demo on PS3 and Xbox 360. Following a short tutorial mode which features the creation and customisation of a hero, players will then have 45 minutes to explore the large, open world of Amalur. Playing the demo will unlock three items which can be used in the full game when it is released: the Twist of Fate Card, unlocked by activating the Reckoning demo using an EA Origin account; the Twinned Souls Chakram; and The Infernal Helm, which is unlocked once players complete the tutorial mode.
However, those are not the only unique items players can get their hands on by playing the Kingdoms of Amalur: Reckoning demo. 38 Studios, developers of Reckoning alongside their subsidiary Big Huge Games, have teamed up with BioWare (of Mass Effect and Dragon Age fame) to reward fans of Reckoning and Mass Effect 3. By playing the Reckoning demo, gamers will receive two items for use in Mass Effect 3 when it is released on March 6th:
Reckoner Knight Armor: This armor will maximize damage done in close-quarters combat while a beefed–up power cell feeds energy into weapon systems to increase projectile velocity.
The Chakram Launcher: This weapon uses a fabricator to manufacture lightweight, explosive ammunition discs. This weapon is earned after completing the Reckoning demo and watching the trailer at the end.
Both items have been designed by the legendary Todd McFarlane, creator of the comic series Spawn and currently Art Director for 38 Studios. You can tell the armor means business as it has giant spikes on it's shoulders and arms, which everyone knows offer much greater protection that your bog standard kevlar.
Conversely, those who play the upcoming demo for Mass Effect 3 will unlock two exclusive items for Reckoning when it launches on February 7th in North America, and February 10th for Europe:
N7 Armor: Players can unlock special armor inspired by Commander Shepard's iconic N7 battle armor including Helm, Cuirass, Gauntlets, Chausses and Greaves.
Onmiblade Daggers: A holographic blade stemming from Commander Shepard's Omni-Tool, the Omni-blade allows players to stab enemies in close combat. Once players install and play the Mass Effect 3 demo, they will unlock the daggers.
The Mass Effect 3 demo is set to be released at some point in January, though the exact date has yet to be confirmed.
You can check out some images of the exclusive content that can be earned by playing both the Kingdoms of Amalur: Reckoning and Mass Effect 3 demos below. I'm still not convinced at how deadly a holographic blade is, surely with it being a hologram it would simply pass straight through things?
[nggallery id=715]
Kingdoms of Amalur: Reckoning is due for release on February 10th in Europe for PS3, PC, and Xbox 360.