PlayStation Vita Review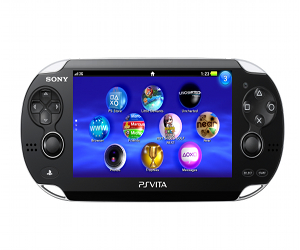 The handheld gaming market has changed over the years. Dominated by Nintendo's DS, with its touch screen controls and titles that still sell for full price years after release. Apple decided to enter the fray too and sell more games on single days than other publishers could dream of selling over a full console life-cycle. Rather than sitting back and watching it all happen, Sony have decided to jump back into the fight.
Despite what many would have you believe, the PSP was (and still is) a decent handheld with a superb library of titles to choose from. One thing that people have cried out for (revision after revision) is the second analogue stick, which has duly been delivered with the PlayStation Vita, along with a stunning OLED touch screen, rear touchpad, front and rear facing cameras, along with full integration into the existing PlayStation Network.
If all of that wasn't enough, it also looks to have one of the strongest console launches (31 games) of all time. But the question remains: How good is Sony's PlayStation Vita?
AESTHETICS: Without question, the PS Vita is the most comfortable handheld device of the modern age. Its lightweight feel belies its size (it is also the biggest handheld device in a while) allowing for absolute comfort over multiple hours of use. The 5 inch OLED screen is gorgeous and will blow anyone away with its vibrant colours that almost jump off the screen.
As mentioned, the most-wanted second analogue stick is present, and both sticks feel very nice to the touch. Fighters such as Street Fighter X Tekken will be a breeze to play on the Vita, with face buttons feeling satisfying too, though some may find them a little on the small side.
The PS Vita feels incredibly well built, strong yet delicate, you will feel as though you are holding an expensive piece of equipment. Literally the only fault found with the form-factor of the device is the manner in which you access memory sticks, or the Vita games themselves. The compartments that hide these storage devices are a little bit fiddly to remove and are the only parts of the device which don't feel expensive.
OPERATING SYSTEM: After you've taken in the beauty of the OLED screen, the first thing you'll notice is just how responsive and smooth the touch interface is; less Nintendo 3DS, more Apple iPad, including the multi-touch. On top of that, you can run multiple apps at the same time (though only one game can be running), using the PS button to drop back to the home area, and switch between them. This means you can be playing a game and drop happily back to the home area to accept a friend request, or check our your trophies, or even just message your friends. After doing so, you simply tap the icon for the game you were playing, hit continue and you are back in the action.
The PlayStation Network is fully supported, and make no bones about it; this is not a stripped down version of the experience. Trophy syncing, messaging, group chat, store – everything is here, present and correct. In fact, some aspects are even arguably improved upon! There is a notification circle that appears top right of the screen which will inform you of friend requests, messages or anything else whilst you are playing.
Bundled on the device is the Welcome Park, which introduces you to all aspects of the Vita's control methods. Utilising short mini-games (which all have trophies) and taking the time to show you how each input works, from touch to microphone, tilt to camera. You'll also find Sony's answer to the Nintendo's Streetpass function, in "Near".
Remote Play works as well as ever, within a minute or two you'll be able to access your PlayStation 3 from anywhere that has a wi-fi connection and be able to play any game that supports this mode. Even switching between multiple PlayStation 3 consoles is as straight forward as inputting a different code. The simplicity of something that appears so complicated is to be admired.
A free PC based client allows you to transfer music and videos onto the Vita – yet again simplicity is the key here, just select the files you want to copy, it's that easy. You can transfer across any Vita content from your PlayStation 3 just as easily.
A fully charged PlayStation Vita will give you roughly 4-5 hours of battery life, that is at near full-brightness, constantly connected to the PlayStation Network and playing a game for most of those 5 hours. Lower the brightness and you could extend that life, but really, considering what the Vita is doing in those 5 hours, it never feels bad.
SOFTWARE: With the incredible launch line-up of 31 titles, there's something available for everyone. A lot of early titles will of course make use of multiple control inputs, with titles like Little Deviants offering every control input available. Stalwarts of the Sony stables such as WipEout and Uncharted are also represented on the Vita, and with much aplomb, exploding into life with the OLED screen, looking as close to their PlayStation 3 counterparts as seems possible.
The incredible thing about the software for the PS Vita at launch, is that these are exactly that; launch games. It's rare to see the best a system has to offer on the day it comes out, so the possibilities for future titles really is a wonderful thought to ponder on, indeed I was left dreaming of a full-on God of War title being released, or hell, even a port of God of War III.
People will no doubt wonder if the titles available can compete with smartphone gaming, but in truth, the games on offer give so much more to the player. Even the titles such as Little Deviants or Frobisher Says offer less of a throwaway experience than, for example, iOS devices. Familiarity to the PlayStation Network (and it's hard to imagine that many PS Vita sales coming from non-PS3 owners) will mean players really do feel connected whilst playing these games, and to be honest, it's hard to find a bad launch game in amongst the list.
VERDICT: The PlayStation Vita is an astonishing handheld console. Visuals that seem impossible are rendered without trouble, with features you would expect from a home console, offering something for absolutely every potential user, no matter the age.
And there lies the biggest positive of the device; the Vita does just about everything you could ever want it to. A handheld gamer's pipe-dream, born into reality with the full backing from the biggest publishers in the industry. Front and rear touch, microphones, motion controls, front and rear cameras, a stunning screen and blockbuster titles; calling PlayStation Vita a handheld is almost a disservice to the device.
Vita deserves to succeed, but if it fails it will only be because it has not been supported in the manner it deserves. The consumer craves innovation, something different that impresses. Sure, it is expensive and yes, it is a funny time of year to release a console, but if you love video games then you'd be absolutely mad not to make the investment. Five minutes with a Vita and you'll clutch it close to your chest and never let it go.
Sony's PlayStation Vita will be released on February 22nd in North America and Europe. You can check out multiple 1080p HD videos of the device from GodisaGeek TV here.