Turtle Beach Ear Force Bravo Review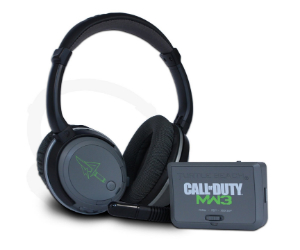 Based on the Turtle Beach PX3, Ear Force Bravo is the upper-mid-range headset in Turtle Beach's new Call of Duty licensed range. So what happens when you take an already fantastic headset, and cram it with Call of Duty?
The Ear Force Bravo features 'Optimised Customisable Presets' designed by Infinity Ward, specifically for Modern Warfare 3, to optimise the gameplay experience. The EFB is capable of storing 18 custom presets at once, which Turtle Beach provide a number of on their website, all of which can come in quite handy for multiplayer gamers. The idea is that you can switch to different presets, depending on the game or situation, for that slight upper-hand. The Ear Force Bravo comes preset with:
Flat (No sound processing effects)
Campaign: Enhancer
Campaign: Bass Boost
Campaign: High Frequency Boost
Multiplayer: Enhancer
Multiplayer: Footstep Focus
Multiplayer: Bass Boost
Multiplayer: Amplifier
Multiplayer: Precision
The presets take advantage of 'Sonic Lens' technology, with 'Sound Field Expander', which effectively widen or narrow the sound field to enhance focus on specific sounds, such as enemy footsteps.
Ear Force Bravo merges wireless game audio with voice-chat audio, for a seamless multiplayer experience. While Xbox Live Chat does require a cable connecting the headset to the controller, as long as you're using a wireless controller, you're still pretty much untethered. Of course PS3 and PC voice-chat are USB dependant, connecting directly to the transmitter box, so no additional cable is required.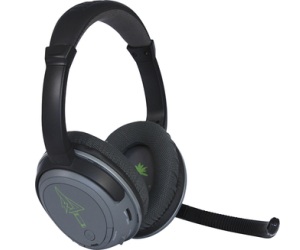 The headset is jam-packed with proprietary technology to enhance your gaming experience, including:
Ear Guard with Blast Limiter – Limit the intensity of deafening sounds such as explosions and gunfire
Sonic Silencers – Eliminate background noise on your mic and online chat
Dynamic Chat Boost – Chat volume automatically increases as the game volume gets loader
Microphone Monitor – Lets you hear what you are saying
Auxiliary Input – Listen to your favourite songs while gaming
Cross Platform – Xbox360 / PS3 / PC / Mac.
The box Contains:
Premium 50mm speakers for high-fidelity audio
Breathable, fabric mesh ear cushions for enhanced comfort
Twist-cup design rests flat on your shoulders
Fully adjustable and lightweight for long gaming sessions
Call of Duty MW3 Limited Edition Ear Force Bravo Headset
Digital RF Wireless Transmitter
Transmitter USB Cable
Headset Charging Cable
RCA Splitter cable
Xbox 360 Talkback Cable
3.5mm to 3.5mm Cable
MW3 Multi-media download key
Presets reference card
User guide
Turtle Beach sticker
The in-built rechargeable battery, lasts for over 10 hours, which is impressive to say the least, not to mention this headset is extremely comfortable for long-play. Turtle Beach's Ear Force Bravo is the perfect headset for multiplayer FPS gamers, on any platform.
Amazon is currently selling the headset for around £105. This review was bought to you in part by VoucherCodes, who have some fantastic Argos discount codes.
You can also find our review of Call of Duty: Modern Warfare 3 here.