New DLC for Breakout: Boost in Celebration of Sales Milestone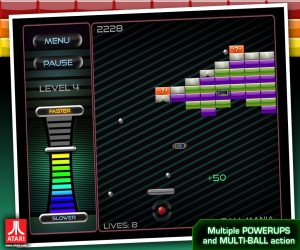 A lot of people have been feeling the love lately, and have been giving their fans extra content because of the upcoming Valentine's Day. Atari are also feeling the love. The massive success, Breakout: Boost, has racked up a fantastic 2.5 million downloads on iPhone, iPod touch and iPad. Available from today, you can download new DLC for the game; a Valentine's Day pack, with will cost £0.69 / €0.79 / AU$0.99 as an in-app purchase. Of course, with these new levels, there are new achievements that come with it.
The pack has 50 new levels that focus on the most romantic day of the year with pictures of hearts and things that will no doubt make you go, "awww". There is also a new Cupid's Arrow power up. This helps you destroy the lovely images a bit quicker as romantic bricks break more quickly with this power up. So, go on, destroy those nice images that make the normal person gooey inside…BLACK HEART!
Breakout: Boost is available now on iOS devices via the
.