Double Fine to Make Fan-Funded Adventure Game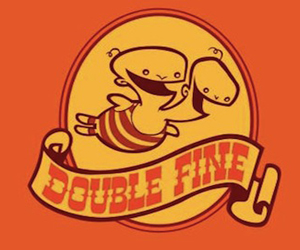 Tim Schafer is not only one of the biggest characters in Video Gaming right now, but he was also one of the driving forces behind the success of the Graphic Adventure Game in the 1990's. And now, in a much-welcomed move, the gaming great – who was the mastermind behind classic Lucasarts Adventures Day of the Tentacle, Full Throttle and Grim Fandango – has announced that his current company Double Fine will be making a fan-funded Adventure Game.
Initially the idea was in doubt – with the company opening a funding page on Kickstarter.com where fans could donate, with a target of $400,00 dollars. But that total was reached in less than twenty-four hours, with the current count totalling over 500k. Fans can still donate – in order to make the release bigger and better, and to be privvy to some pretty sweet rewards.
Those who do donate will get different rewards depending on the amount they give, but these prizes include; early access to the game, full soundtrack, posters, a personalised portrait by the games artists or even lunch with Tim himself and Ron Gilbert – another Adventure Gaming legend (he who created the Monkey Island series). Running alongside the project will be a high-definition filmed documentary by 2-Player Productions. This will show fans the inner workings of the company, and keep them up to date with progress on the title.
This is an excviting development for Adventure Game fans, and comes only a few days after Minecraft creator and multi-millionaire Notch had stated he wanted to fund a Psychonauts sequel with Double Fine. Things are certainly looking rosy for the independent devs who are known for creating interesting and hilarious games. We at GodisaGeek.com can't wait to see this project develop further.
[nggallery id=767]
The project is intended to be completed in October 2012, but is subject to change.