It was a crazy week last week here at the GodisaGeek.com towers and things can only get better but to start your week off properly we've got four more games to play with. First we've got Backyard Bound, a physics based puzzle game that's about as difficult to pull yourself away from as any other physics puzzler. Streetbike: Full Blast is a racing game that involves bikes, that's not something we get a lot so it's worth a look for that reason alone. Charge Your Brain is a brain training game for the iDevices but is it as good as the ones on consoles such as the Nintendo DS that we're all used to? Lastly we've got Towers N' Trolls, a tower defence game with a little bit of a twist.
That's all we've got for this week, carry on reading for the full reviews of each game and don't forget to come back and tell us what you thought of each of them in the comments below.
Play some games!
Titles are available on iPhone and iPad unless specifically stated otherwise. If you like what you read, click the small black "App Store" button to load iTunes up and purchase the title!

BACKYARD BOUNCE:
Physics based puzzle games seem to be a dime a dozen on the iOS App Store, in fact, they're pretty popular just about everywhere so it's never too much of a surprise when another one lands in my Mobile Monday inbox ready for review. That being said, I always seem to enjoy them, there's a certain level of unpredictability with them that seems to keep them fresh a little longer than most games. ChaYoWo Games has released another of these physics based puzzle games onto the world in the form of Backyard Bounce buy does it stay fresh like a lot of the other physics puzzlers or does it shrivel and die too soon?
The gameplay in Backyard Bounce tasks the player with getting a basketball through the hoop. Sounds simple enough doesn't it? Not so much. The problem with this – and the actual "puzzle" part of the game – is that in order to get the ball through the hoop you've got to use the items at your disposal in such a way that the ball will fall through the hoop, with no interaction on the ball from the player, using only gravity (as well as the objects you've placed) to help it move. This will usually involve trial and error, and a lot of people will get it wrong a good few times, but you'll eventually understand how to solve the level.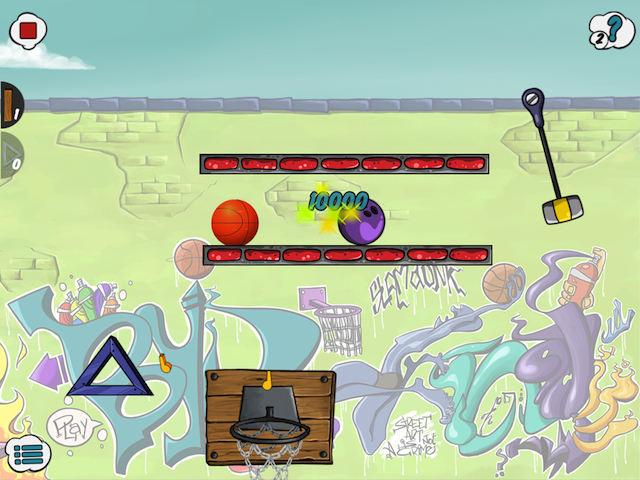 All of the levels can be solved in a multitude of different ways, as long as the ball goes through the hoop the game doesn't care if you planned out every potential outcome with the mathematic precision of a genius or managed to launch it through the hoop by sheer fluke and a great sense of willpower. As long as the ball goes swish, the game will advance you onto the next stage. This is a nice aspect of the game as it means that the people that are more precision based players can play the game how they want while luck based players can do the same. Diversity.
The controls of Backyard Bounce are easy enough to learn too, especially with the little tutorial at the beginning. It can sometimes be a little difficult to tap on the objects that you're wanting to place into the level as they're tucked right into the edges of the screen. People with cases on the iDevices may find problems like this a lot of the time, and it's certainly not something isolated to Backyard Bounce, but it's something to be aware of as it frustrated me quite a lot, but I also know it's not the game's fault.
Backyard Bounce certainly isn't the best physics puzzle game on the market but there are much worse ones out there. If you've been looking for this type of game for a while then it's worth a look, just don't expect it to reinvent the wheel. It's a puzzle game from beginning to end and never attempts to be anything it's not. Which seems to be something that needs applauding in its own right in recent years.


STREETBIKE: FULL BLAST:
In all my time reviewing iOS games I don't think I've ever seen a racing game that involves bikes. I've seen plenty that involve cars in their many racing variations, Formula One, Rally or just generic racing, but there aren't many at all that involve bikes. Turtles Entertainment has seen this lull in the market and decided to fill it with a game of their own, Streetbike: Full Blast. There's nothing obviously special about the game, other than the fact that its a bike racing game in a marketplace that's severely lacking in them, but is that all it's got to offer?
As you would expect from a racing game, the gameplay revolves around pulling back the throttle and getting yourself to first place. Don't expect things to be easy though, not even in your first race, the AI will do everything in their power to make sure you don't cross that finish line before them, even going so far as to force you into the path of cars in order to slow you down. Yes, it's a cheap move but it ensures that the races are a challenge right from the start. Which is something that can't be said for the majority of racing games. Quick race is the mode that a lot of people will start their Streetbike: Full Blast careers with, but it's not the only mode.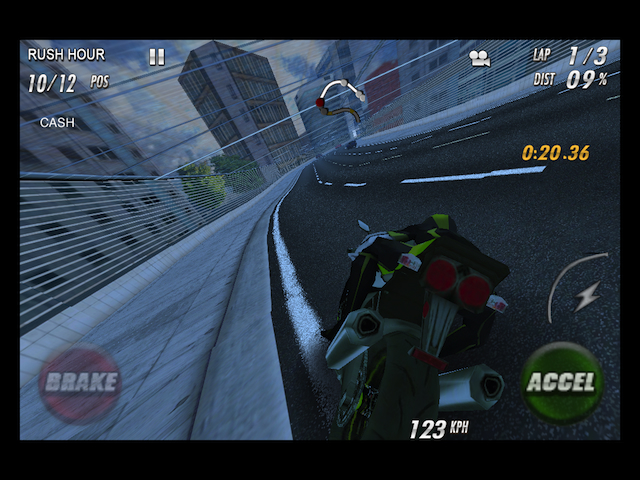 The other main mode that people will be spending their time in is the Street Battle mode. This is the game's tournament style mode where the player is given a selection of tracks and told to simply finish the collection in as high a position as they possibly can. Again, just as with the Quick Race, these races aren't easy and you'll have to crawl your way to the top of the pack. Even when you're at the front you'll have a battle on your hands to stay there with the AI overtaking you if you make even the slightest mistake; which you will…a lot. Getting to the end of this tournament mode – let alone in a podium position – is challenging, but it's a challenge that is welcome in this style of game.
The controls in Streetbike: Full Blast are extremely simple, consisting of only two buttons; accelerate and brake. Steering is done via the iDevice's accelerometer and this helps the game to be a little bit more intuitive. The tilt controls are quite responsive and seem to be almost 1:1 meaning the however far you tilt your iPhone/iPad, that's how far the bike will tilt. A lot of people will pick up a racing game and start tilting the device anyway, so it's nice to see an application utilise this and do it so well. One of the biggest downsides to Streetbike: Full Blast are the visuals, which look like something that would have felt at home on the Dreamcast, but the gameplay makes up for those graphics in some way, although it would have been nice to see something more visually pleasing.
If you've been waiting for a bike racing title to be released then Streetbike: Full Blast could be the game that you've been waiting for. It has simple to use controls, challenging gameplay mechanics and while it doesn't really look all that spectacular it's something that, if you're a fan of the genre, once you've picked it up you won't be able to put it back down.


CHARGE YOUR BRAIN:
We've all played brain training games. Whether they're for the Nintendo DS, the Wii or one of the one that are available on the Sony Entertainment Network/Xbox LIVE Arcade, even if we don't want to admit that we've played them; we have. Charge Your Brain, developed by Unusual Things, appears to be another one of these brain training games that people seem to be addicted to, having you play along with the little minigames that it gets you to perform in order to "exercise your brain", but is it as good as a Dr. Kawashima? Can it even really be classed as a brain training game, even though that's exactly what it appears to be?
The short answer to that last question would be no. For a "Brain Training" game to be classified as such, at least in my opinion, there's got to be some form of measurement, some indication that you're actually improving; otherwise what's the point? Charge Your Brain doesn't give you any indication of how well your brain works except by giving you medals based on how quickly you performed a puzzle, or how many questions you got wrong. This is fine if you're playing with someone else, at least in that respect you can compare your abilities to theirs, but if you're playing the game solo then there's no indication at all that you're improving in any way, especially if you've already gotten the gold medal.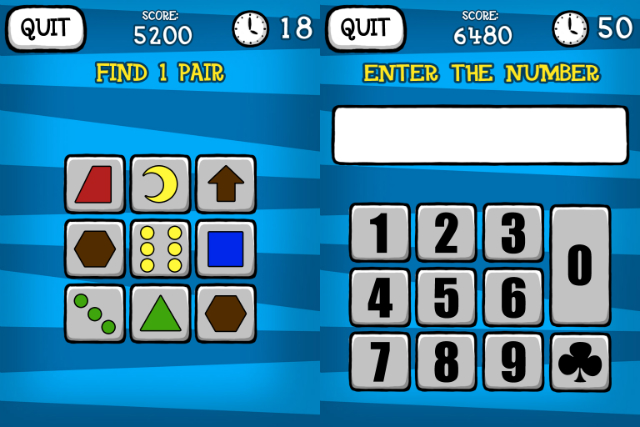 That being said, minigames are actually quite enjoyable, even if they do feel a little pointless in the grand scheme of things. The bright and colourful art style lends itself well to the game, helping it appeal more to children. The buttons that are to be pressed are large and easy to see and only get harder to press when you increase in difficulty. All of the games are your standard ones, matching shapes, solving maths problems and the like. There are a lot more that can be played but they required the player to buy extra packs via in-app purchases. Something which seems unfair given the small amount of games unlocked from the start and the fact that the game seems to struggle with its attempted purpose; brain training.
Thankfully, despite its downfalls, Charge Your Brain is an extremely simple game to control. All the player has to do, depending on which minigame is currently being played, is tap the screen where the answer they're wanting to give is. All of the buttons are big and easy to see and, more importantly, easy to press quickly and accurately; which is important if you're wanting that gold medal. Players of any age and, crucially, players of any level of gaming experience, will be able to pick up and play Charge Your Brain with ease. There is almost literally no barrier to entry (except the obvious monetary one for the game packs), so if it seems like a game that may interest you, or a family member, then why not?
If you're looking for a collection of relatively fun minigames then Charge Your Brain could be what you're looking for. However, if you're looking for a game in the brain training genre that you can play on your iDevice then you'll need to keep looking. No matter how hard Charge Your Brain tries to claim the it's a part of this genre five minutes with it will show that it simply isn't and anyone expecting it could be severely disappointed.


TOWERS N' TROLLS:
It seems like every week I'm reviewing another tower defence game here in the pages (if you can call them that) of Mobile Monday. There are ones that break the mould, some that cost very little to make and even some that have clearly substantial development costs. There's a reason for the obvious influx of tower defence games, especially when it comes to touch devices such as the iPhone/iPad; they're bloody addictive and they lend themselves extremely well to furiously tapping at the screen, trying to keep those pesky creeps away from your base. Developed by the guys behind Toy Soldiers and Baldur's Gate: Dark Alliance, Towers N' Trolls clearly has some creative muscle behind it but is it enough to be the definitive tower defence game on the iOS devices?
If you've played any kind of tower defence game before then you already know, more or less, what the gameplay in Towers N' Trolls is going to be like. The creeps come in from the left hand side of the screen and will attempt to get to your base, which is located on the right hand side of the screen. In order to stop them reaching their goal it's the job of the player to place towers on the ground, with various abilities, that will attack the enemy as they pass, preventing them from ever reaching their goal. It's a tried and tested gameplay mechanic and – as the old saying goes – if it ain't broke, don't fix it. That's almost the sentiment that Ember Entertainment went with. Almost…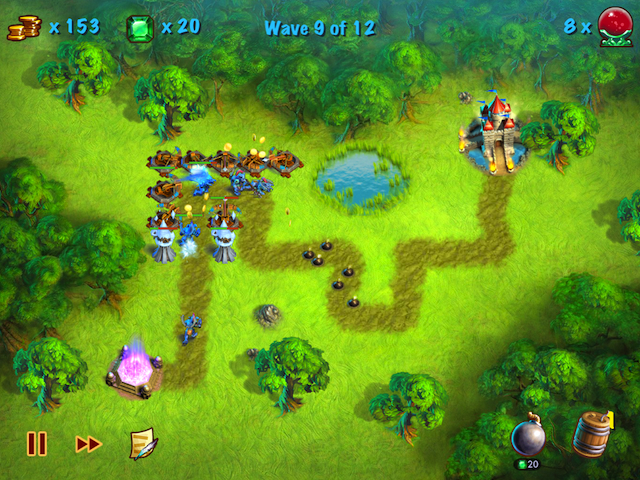 Usually, when playing a tower defence game, the creeps will take the path of least resistance which, unless you stop them by placing towers in the way, will be straight across the centre of the screen. Ordinarily, the main tactic to overcome this is to place the towers in such a way that it forces the enemies to travel along a much further path, increasing the amount of towers they encounter and, therefore, increasing your chance of survival. That's not the case with Towers N' Trolls. The aforementioned path is already laid out for the player and there's nothing the can do about where the creeps will travel, this simultaneously makes things easier and harder. The player will no longer be expected to realise that they need to create their own path for the creeps, simplifying the game for new tower defence players by just having them concentrate on placing and upgrading the towers, but now the game will be much harder (or at least seem so at first) for seasoned tower defence gamers as the now have a much shorter path to defeat their enemies than they're used to. It's this pre-made path, and the gameplay that changes around its existence, that makes Towers N' Trolls different from most tower defence games.
With aesthetics that are visually pleasing and gameplay mechanics that are just about different enough to keep it afloat in a sea of tower defence games, Towers N' Trolls is a game that should be added to every gamer's library of games. This is the first game from Ember Entertainment and if this is what they can achieve on their first attempt with the creative talent they've got on hand, it'll be exciting to see where they go from here. Keep your eyes peeled.