Top Gear Car Pack Coming to Forza 4 this May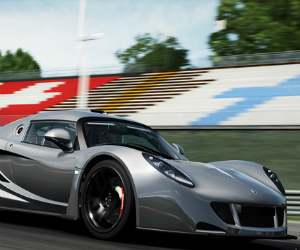 A brand new crop of cars for players to collect, drive, and customise is coming to Forza Motorsport 4 this May, in the form of the Top Gear Pack.
That's right unlike a certain other sim-racer, Forza Motorsport 4 has done the whole Top Gear thing right. Now Turn 10 are looking to bring even more Top Gear magic to the game with this latest car pack, featuring 10 cars that all have links to the famous British show.
The May Top Gear Car Pack features the following 10 cars:
 2012 Hennessey Venom GT – The Venom can do 0-200 mph in less time than it takes your average car to reach 0-60 mph.
1977 AMC Pacer X – With classic 70s style and a 232-cubic-inch, 3.8 liter, inline six, the Pacer X was modest on power, but its legacy lives on today.
2011 Ford Transite SuperSportVan – The SuperSportVan is the latest creation in the long-standing series of Ford-built custom fans, which dates back to 1971.
2012 Jeep Wrangler Rubicon – The 2012 Jeep Wrangler Rubicon is by far the most comfortable and amenity-loaded Wrangler ever. It's grittier too, with 40 percent more horsepower than older models.
1966 Lotus Cortina – One of the first "race on Sunday, commute on Monday" factory cars, the Lotus Cortina built its reputation both on the tarmac and in folks' daily lives.
1992 Mitsubishi Galant VR-4 – The turbo-charged Mitsubishi Galant VR-4 is a treasured piece of JDM history.
2012 Smart ForTwo – At just 106-inches long, the ForTwo is by far the smallest production car ever made. It's a practical, urban errand runner whose looks will always spark a conversation.
1990 Subaru Legacy RS – The Legacy RS Turbo was the most powerful Subaru model available and still enjoys a strong following among Scubie enthusiasts.
2012 Chrysler 300 SRT8 – Packing a huge HEMI under its hood that makes for more than 450 horsepower, the Chrysler 300 SRT8 packs a potent combination of power and sophistication.
1965 Austin-Healey 3000 MkIII – Hand-crafted beauty and grin-widening performance define the 1965 Austin-Healey 3000 MkIII.
[nggallery id=875]
The Top Gear Car Pack will be available via Xbox LIVE Marketplace on May 1st for 560msp.