The Witcher 2: Assassins of Kings Enhanced Edition is Available Worldwide Today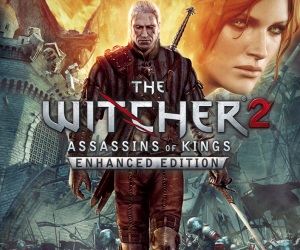 Nearly a year has passed since The Witcher 2 made its debut on the PC. Today, the game sees its first release on consoles, and PC players also get more gameplay through a free update. The Witcher 2: Assassins Of Kings Enhanced Edition has come to Xbox 360 & PC in a worldwide release today, and many are raving about the games mature themes, beautiful scenery and terrific gameplay – including our own Adam Cook who undeniably loved the game.
Adam Badowski, who is the head of Polish developer CD Projekt RED was elated about the game's release on a console. "This is our first console game, and I'm very excited to bring The Witcher 2 to Xbox 360; it's one of the most mature and best-looking games on this platform…But we haven't forgotten about our current PC players – owners of the game on PC can download the Enhanced Edition update from our webpage for free.I want to invite all new Witcher fans to thewitcher.com – we've proven several times that fan feedback is important, so tell us what you think of our game".
The Enhanced Edition of the game comes chock full of new things to draw in those that may have missed out on one of 2011's biggest games. This version of The Witcher 2 has 4 more hours of gameplay through new quests and 35 minutes of new cut scenes. This is one that I didn't play last year. I wanted to, but because I'm not a massive PC player, I didn't. Sadly, I think that rings true for many, but now that this great game has made its way onto the 360, so many more will be able to marvel in its splendour. Plus, PC players aren't left behind thanks to the free update. So what are you waiting for!?! Go out and get it!