Mateusz Zanik, Game Director of Cyberpunk 2077 and co-game Director of The Witcher 3: Wild Hunt has co-founded a brand new, clean-slate studio named Blank. He joins forces with a number of CD Projekt RED alumni, including Jędrzej Mróz and Marcin Jefimow, as well as Narrative Director Artur Ganszyniec and Art Director Grzegorz Przybyś.
Together, they aim to bring beautifully crafted and unique games to players around the world, beginning with the unnamed project teased in the header image, a story-driven post-apocalyptic adventure with "a few twists".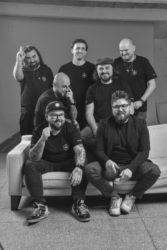 In Kanik's own words: "We're thrilled to announce Blank. and to start expanding our incredible team. After working for years in an increasingly conservative industry, we're ready to make bold, impactful projects that share our unique creativity and values. Where the industry champions a dictatorship of the creative individual, we want to give ownership to the team. Where the industry leans on crunch culture, we prefer work-life balance. Where the industry says bigger is better, we're setting our sights on highly polished games with a focus on emotion, story, and craftsmanship."
Co-founder of new studio Blank, Marcin Jefimow also said: "Our game development philosophy comes from our own stories and experiences. With Blank. we want to build a space where we can honour our histories, but also be playful and open to brand new inspirations as we collaborate creatively. We've already got a head start on a budding new project that we can't wait to share with players and craft with new team members."
The Blank headquarters are situated in Warsaw, Poland, and currently has just 10 members. They are aiming to recruit as many 60 in order to bring their new project, and many more, to life.