Rumour: Wii U Launch Lineup Leaked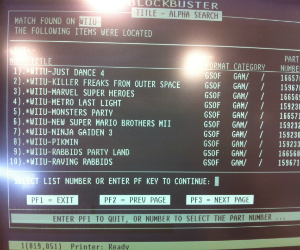 With the Wii U launching this year there has been much debate on whether the launch lineup will be up to scratch, a possible leak from Blockbuster UK today looks promising.
GoNintendo first reported the leak, posting three images of what looked like stock listings for Nintendo's upcoming home console. Obviously none of this has been confirmed and should be taken with the traditional prescription, a pinch of salt.
The list contained 25 games and they were:
Just Dance 4
Killer Freaks From Outer Space
Marvel Super Heroes
Metro Last Light
Monsters Party
New Super Mario Brothers Mii
Ninja Gaiden 3
Pikmin
Rabbids Party Land
Raving Rabbids
Rayman Legends
Shield Pose
Splinter Cell 6
Sports Connection
Tekken
Your Shape 2013
Zombie
Aliens: Colonial Marines
Assassin's Creed
Batman Arkham City
Darksiders II
Dirt 3
Formula 1 All Stars
Game Party
Ghost Recon Online
There are some interesting games on the list, most notability Splinter Cell 6, Pikmin and Ghost Recon Online (thought to be a PC only title). Word going around from people in the know is the Wii U launch lineup is looking pretty good, and today's possible leak would certainly go along with that.
What stands out most on this list for you, and if this turns out to be the real launch lineup what titles will you be picking up on day one?