Sly Cooper- Thieves in Time sneaking its way onto Playstation Vita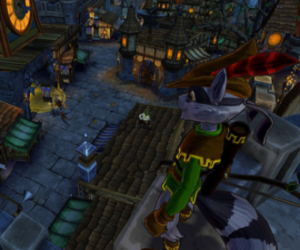 Sly Cooper is one of the most adored Sony characters in recent history. The good news is that not only is the world's most lovable furry burglar returning this year, but you'll also be able to take him around with you on the go!
Announced today on the Playstation Blog, CEO Glen Egan of Sanzaru Games revealed that Sly Cooper- Thieves in Time will be releasing on Playstation Vita as well as Playstation 3 in Q4 of 2012. Bringing with it all the technical achievements of the Playstation Vita and exclusive features that revolve around the usage of the touchscreen and rear touchpad, there's also cross-save compatibility if you wish to purchase the game on both platforms. That means you can continue your game on the bus or train, and not have to stick to the handheld console in the comfort of your living room.
With Sly and the love of his life Carmelita Fox returning for more crazy adventures, there will be plenty of opportunity for thievery and mischief come the end of this year!