E3 2012: Heroes of Ruin Multiplayer Trailer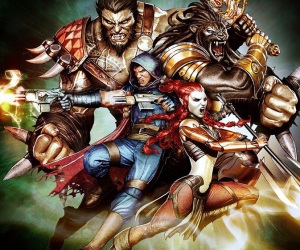 The hybrid action-adventure / real-time strategy / role-playing game Heroes of Ruin, from Square Enix and n-Space is set to hit retail shelves very shortly. In fact, there are only a few weeks left until gamers will be getting their hands on the game, so Nintendo took the opportunity at E3 2012 to showcase the powerful multiplayer features that the game possesses, which are impressive for a handheld device.
The game will incorporate both the StreetPass and SpotPass technology of the 3Ds console, allowing the "Traders Network" to operate over StreetPass – where gamers can buy, sell and trade items with other players. The SpotPass will allow gamers to encounter specific challenges and quests as they travel – which change daily. And on top of all of that, up to four players can drop in and out of multiplayer action at any time, both locally and online.
See the new multiplayer trailer below:
Heroes of Ruin will release on June 15, 2012 in Europe and July 17 in North America, only on 3DS.