E3 2012: Sony Unveil the Wonderbook AR Book Series and Wonderbook: Book of Spells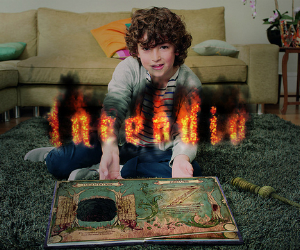 One of the surprise announcements from Sony during their conference at E3 2012 was Wonderbook, and augmented reality book that used the PlayStation Eye to almost literally bring the book that you're reading to life. The software is developed by Sony's London Studio, the guys that brought us EyeToy and EyePet so they're certainly a set of people that know what they're doing when it comes to utilising the PlayStation Eye.
Sony have said that they're working with a whole host of talent to bring different Wonderbooks to market, some educational, some entertaining with all of them being, hopefully, fun to use. One of the books that was announced was the Wonderbook: Book of Spells from J. K. Rowling, author of the Harry Potter series of books. Instead of me telling you what this particular Wonderbook will offer players, why not check out the video.
Wonderbook is due to be released exclusively for the PlayStation 3 during the holiday season 2012, alongside Wonderbook: Book of Spells.