LucasArts Announce Star Wars 1313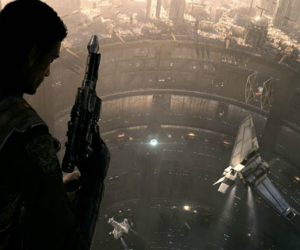 As reported a few days ago, LucasArts have indeed announced a brand-new Star Wars game, but no one expected this.
A far cry from the family friendly Kinect Star Wars, 1313 is described as a third-person action adventure game with a dark mature theme. Players won't be wielding the force either, instead they'll walk in the shoes of a bounty hunter, trying to uncover a conspiracy on the planet of Coruscant.
The majority of the game will be centered around cover based shooting and platforming. The 1313 in the game's title refers to level 1313 of Coruscant's huge underground system.
Paul Meegan, president of LucasArts said:
Star Wars 1313 dives into a part of the Star Wars mythos that we've always known existed, but never had a chance to visit. We are committed to bringing the best gameplay experience and visual fidelity to life and I truly believe the work we are showcasing at E3 will speak for itself.
The entirety of LucasArts will be getting involved, with help coming from Industrial Light & Magic, Skywalker Sound, and Lucasfilm Animation.
Star War has had a rather checkered history when it comes to gaming, with highs like KotOR and Rogue Squadron II being balanced out by lows such as The Force Unleashed 2. Does this drastic new path interest you, what is one feature you would love to see in 1313?
Star Wars 1313 currently has no confirmed platforms / release date.