Marvel Pinball: Avengers Chronicles Review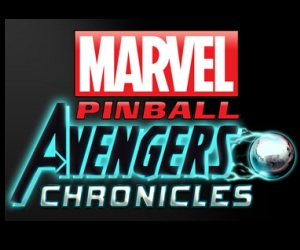 Game: Marvel Pinball: Avengers Chronicles
Developer: Zen Studios
Publisher: Zen Studios
Available on: Xbox 360, PlayStation 3 (Reviewed on Xbox 360)
I love a good game of pinball,  and indeed a good pinball table. I once spent £20 – when that was still a lot of money – converted into ten pence pieces, as I idled away an entire day in front of a Scared Stiff table in a dodgy Isle of Wight arcade. I am not ashamed about this, it is how I roll.
The problem is that in physical terms, much like the arcade cabinets I always bang on about both in my reviews and in podcasts, real pinball machinery is seldom seen in the wild these days. Which is a shame, because in days of yore, they used to regularly appear in shops, pubs and cafes. Pinball was once incredibly popular. Don't forget, pinball tables have been about for a lot longer than pixelated video games, and mastering a table and the dark arts of flipper control still to this day has something of a mystique to it. Before anyone brings up The Who, I am thinking more about a terrific article I once read about a champion pinball player in the Beastie Boys' wonderfully irreverent Grand Royal magazine, which unlike a certain famous musical, made pinball seem like the coolest thing ever.
The lack of any tables to grip the sides of, and something of an air of inevitability, saw videogame interpretations of pinball begin to appear. Over the years there have been some brilliant games (Pinball Dreams/Fantasies, Pokemon Pinball and Metroid Prime Pinball spring to mind) but mostly very bad ones, which failed to grasp the basic things that make the pursuit so fun. Thankfully, Zen Studios are a company who clearly love pinball. Their Pinball FX and Zen Pinball series have been a roaring success, marrying perfect mastery and knowledge of the genre with some thrilling table designs, excellent licenced tie-ins and sensible pricing strategies.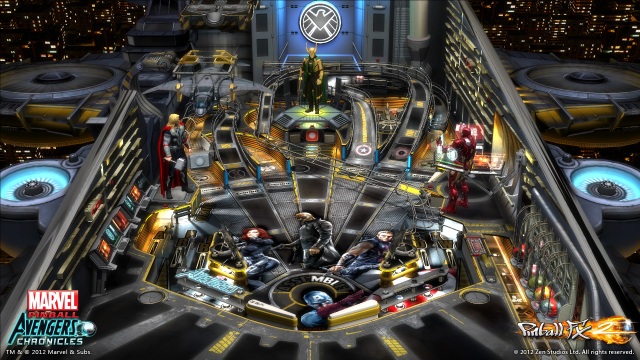 Their last clutch of downloadable tables, collectively known as Marvel Pinball, was a killer package that brought four of the esteemed comic company's hardest hitting icons to the world of ball-based scoring madness. If you were a pinball fan, it was a must-buy. The tables were designed impeccably, with umpteen secrets and mechanics that work in a pinball context but could never have been achieved on a conventional table. If you were a comic book aficionado, it was also a dazzling showcase of fan service and supreme superhero geekery, with voice acting, guest appearances from a plethora of Marvel faces and tables that were like taking a peek into a moving, flashing multiplier-packed comic book.
After bringing Spidey, Wolverine, Iron Man and Blade to the table, Zen followed up with four more crackers starring the X-Men, Thor, Ghost Rider and Moon Knight. They were cheap to download and constituted four out of four winners. With the Avengers riding high in the movie charts, it was inevitable that they too would soon need their own table. What Zen are offering now are not one but four new Avengers-themed add-ons, collectively named, as were the original Marvel Pinball and Marvel Pinball: Vengeance & Virtue packs. Ladies and gentlemen, I give you Marvel Pinball: Avengers Chronicles.
Yet again, all four tables on offer look amazing. Alive with animated characters, moving images, nods to classic comics and other superheroes and supervillains, they are comic book works of art. World War Hulk sees your ball careering around a ruined Manhattan as the moody green giant bickers with the likes of The Thing and the Punisher; it looks superb. Fear Itself is based in the bonkers interstellar kingdom of Asgard, with things rounded off by Thanos showcase The Infinity Gauntlet. These new tables are based around specific historical events in the Marvel Universe, as opposed to focussing on just one character each, and feature fully loaded storylines and voice acting based on actual lines from the comics. One table is based upon the Avengers movie of course, but rendered in a comic-art style and does not depict the actors from the movie.
Gameplay wise the physics and table design mean that this is another treat. Each individual table is as packed with features and secrets as any table you will have ever experienced in real life, and each seems to bring with it a funky mechanic to set it apart from the rest. The Avengers table – for example – features six different selectable balls at the start, each based on a particular Avenger, with each requiring a different approach toward defeating the Trickster, Loki. Fear Itself features some excellent flipper controlled giant-hammer action, whilst the superb Infinity Gauntlet table sees Adam Warlock and The Silver Surfer battling the cosmic badass Thanos by collecting Infinity Gems, which affect the playing field in a variety of ways. Needless to say I was shocked when one gem caused the table to flip upside down, that never happened in my local chip shop as a kid.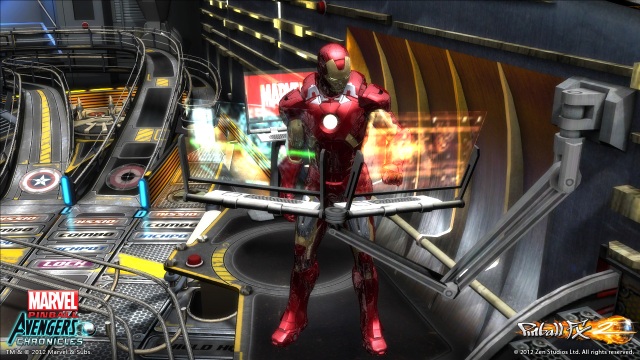 VERDICT: Zen have triumphed again with this downloadable pack of corkers. They are truly masters of pinball design, but also have the knack of putting a license to superb use. Marvel fans will be blown away by the way their heroes are portrayed here. It is also a great way for pinball loving, yet comic newcomer individuals to learn about some of the lesser known denizens of Marvel's wonderful universe. Thanos in particular is someone who I feel Marvel have big plans for, and is a great comic creation; his table here contains enough dialogue and story spoilers to last you for weeks.
The usual Pinball FX2 leaderboards, constant challenges and statistics flashed up on screen mean that this is as fun to play as ever, as you constantly try and outdo the high scores of your friends and acquaintances. A stunning and reasonably priced addition to an already stellar array of tables, this is essential.