Get Ready to Roll with New Super Monkey Ball Banana Splitz Trailer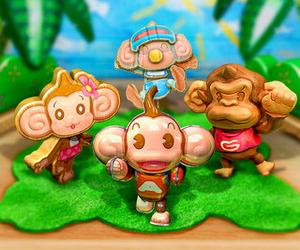 At E3 2012, SEGA got the chance to show of a new trailer for the latest entry in their ball-rolling puzzle series, starring a cast of lovable Monkeys, Super Monkey Ball Banana Splitz. The title will be a PlayStation Vita exclusive game, and will be taking full advantage of some of the new features that the Vita has to offer, such as tilt control, touchscreen technology and blowing into the microphone.
Perhaps the most exciting prospect though, will be the opportunity for gamers to create their own puzzle stages from scratch. Although there will be over one hundred ready-made stages to play straight out of the box, there will be a literally endless amount of new levels at your fingertips – with building your own and in sharing community-created levels. Create new fiendish stages for your friends, and see who can get the best score on the wi-fi leaderboards.
This could be the biggest revelation to the Monkey Ball series for quite some time.
See the E3 2012 trailer for Banana Splitz below:
Super Monkey Ball Banana Splitz is due for release on October 26th, only on PS Vita