Microsoft Reveal Limited Edition Halo 4 Xbox 360 Console Bundle and Accessories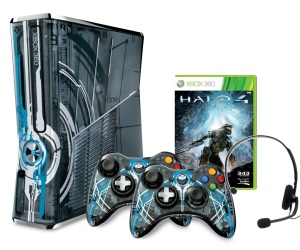 Microsoft have gone reveal-crazy during San Diego Comic-Con, but they've gone even more crazy for Halo 4, announcing accessories and a limited edition Xbox 360 bundle.
It's sure to be a divisive design, but the £269.99 (RRP) Halo 4 console bundle – available to pre-order now – will include the custom-designed console, two controllers (inspired by the game), a standard edition of Halo 4, a wired headset, 320GB hard drive and Xbox LIVE tokens for exclusive Halo 4 in-game content and avatar content. The ring of light and Xbox guide button on the console/controller will be blue, instead of the standard green. Yes, that's the point I wanted one too.
You can also buy most of these things seperately, with the controller set for release on November 6 for £39.99. It features the UNSC emblem on a dark grey translucent body, and comes with an Avatar T-Shirt code too.
Check out the pictures and let us know your thoughts.
[nggallery id=973]
Halo 4 is set for release on November 6, exclusively for Xbox 360.