Black Ops 2 Multiplayer Trailer Released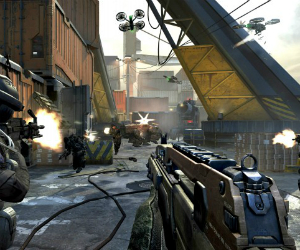 The moment Call of Duty fans have been waiting for is here, as Treyarch show the first multiplayer footage for Black Ops 2.
Featuring new weapons, perks and killstreaks, the trailer also has lots of other reveals. Dive to prone looks to be returning after Infinity Ward opted to leave it out of Modern Warfare 3, while riot shields look to be making their first appearance in a Treyarch game.
Perhaps the most interesting thing of all appears at the end of the video,  some kind of voice recording feature seems to be present, could this be a new addition to the theatre mode?
What do you think, is Black Ops 2 shaping up to be the best game in the series so far? Check out the trailer below and tell us your thoughts.
Call of Duty: Black Ops 2 launches worldwide on November 13th for Xbox 360, PS3, and PC.