Mad Catz Announce S.T.R.I.K.E.7 Pro Gaming Keyboard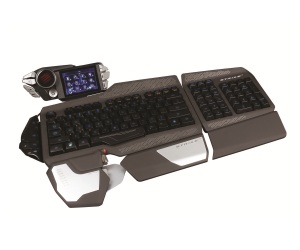 As you'd expect, plenty of announcements at gamescom 2012 already, including Mad Catz informing us of their new S.T.R.I.K.E.7 Pro Gaming keyboard.
Designed as the perfect companion for their R.A.T. series of mice (of which we've reviewed the 7 and 9 models, hint: they're great), but the best part is that they're shipping right now!
Darren Richardson, the President and Chief Executive Officer of Mad Catz Interactive, Inc. says:
Our engineers created a keyboard that delivers unprecedented customization and performance. We believe the S.T.R.I.K.E.7 will capture the imagination of passionate gamers and continues to demonstrate our ability to innovative in the core gaming sector.
Check out the gallery below to see for yourself how cool it looks.
[nggallery id=997]