PES 2013 Review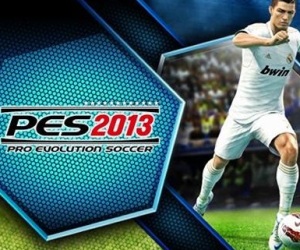 Game: PES 2013
Developer: PES Productions
Publisher: Konami
Available on: Xbox 360, PlayStation 3, Windows PC
Reviewed on: PlayStation 3
This review was brought to you in part by Bwin
As a youngster, it was always the home computers that seemed to offer me the best game of pixellated footy. My life as a boy pretty much revolved entirely around the sport. If I wasn't out playing with my mates at the local park, I was sat in front of a C64 playing some Microprose or Emlyn Hughes International Soccer, with my Amiga playing Sensible Soccer or Champ Manager, all the while building up my useless football knowledge by incessantly poring over the latest magazines, ancient sticker albums and annuals. When consoles started to make their way into my home, the quality of the football games seemed to take a bit of a dip. The Neo Geo had a couple of fun arcade-style efforts, and you had the strange isometric world of the early FIFA-verse, but none of these contenders were good enough to usurp Sensible World of Soccer as my soccer ball weapon of choice. Then in 1994, Konami dropped International Superstar Soccer.
ISS was a wonderful game (it still is, actually) which balanced out the true to life strategy bent that fans craved, with just enough arcade style action to satisfy the casual gamer. It didn't have the official licenses but nearly all of the 1994 World Cup sides were in the game, and there were players within the teams who physically resembled the stars of the day. Who could forget "Capitale", the flaxen-haired, goal-getting Argentine striker based upon Gabriele Batistuta?
Of course we all know that Konami went on to push their series to greater heights. ISS received a top-class sequel little more than a year later, introducing ace features like co-op play and strategies you could implement in real-time. The series became synonymous with high-quality soccer games, receiving annual updates in Europe and Japan, where it became known as Winning Eleven. By the time the outstanding ISS Pro Evolution Soccer hit the markets in 1999, Konami were the undoubted kings of the footy sim, with everyone else playing catch up. There they remained for a good part of the Noughties. The only other worthy contender I can remember sinking any significant time into other than Konami's mighty franchise was Namco's highly underrated Football Kingdom, a plucky challenger that never caught on outside of Japan (but is worth hunting down if you are footy games mad, and have an import PS2) at least until EA stepped up to the plate and started really giving Seabass a run for his money.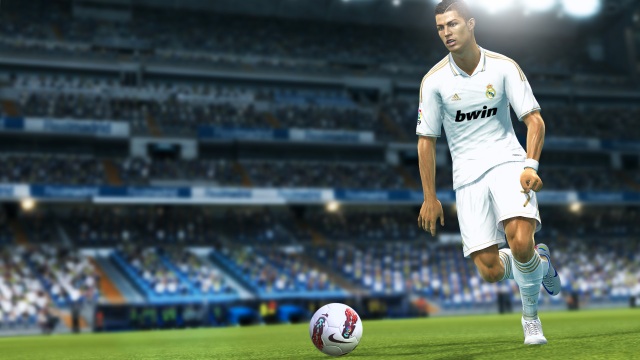 Nowadays, there is an annual showdown between the two football giants, with an almost Blur Vs. Oasis vibe going on. However, both FIFA and PES should be reviewed on their own merits, as they have always done things on their own terms, and have their own charms to consider. As such, I will not be mentioning EA for the rest of this review. It's PES time, baby.
GRAPHICS: Konami have definitely improved the way PES looks this year, with some excellent likenesses of our favourite players, right down to the animation and the way they move on the pitch. Marquee players like Cristiano Ronaldo and Lionel Messi are instantly recognisable not just from the way they appear, but by their dribbling and running styles. The level of detail in the animation is really something, and in the midst of an enthralling game you may not notice everything straight away. Just pay attention to the way players react when they are anticipating a pass, or indeed how the player who has just passed the ball will move to get himself into position. Check out the frames of animation when you shoot, pass, tackle, anything. It really is sumptuously done.
The stadiums all look excellent, with a wonderfully diverse set of supporters this time around, all with much less noticeable repetition. Some of them are licensed, such as the Bernabeu, and are very nice representations of their real life counterparts. 3D is fully supported – and is something that makes things very interesting. The game suggests a specific camera mode for play when using stereoscopic 3D, placing you behind the players in a kind of SNES Super Soccer view, but this is not conducive to effective gameplay for those used to the traditional horizontal view. That said, on my passive 3D HD gogglebox, the game looks excellent in 3D regardless of view, although as with anything that involves donning ridiculously uncool shades, it is not advisable to play in this mode for prolonged periods.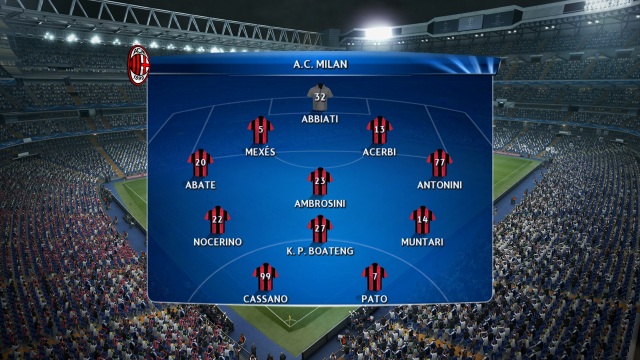 SOUND: Being a footy game, there isn't a great deal to write home about in the sonics department – the usual ball-kicking noises are present and correct, and there are some nice crowd noises including authentic sounding chants. The soundtrack, although varied, has a vibrant Latin feel. There are some excellent tracks from the likes of Rednek (who provides the banging "They Call Me"), Dominican rapper Vakero and Alex Da Kid-produced US indie rockers Imagine Dragons. In addition to the menu music, it is also very pleasing to hear the official songs that are used in the Champions League and Copa Libertadores modes. A banging Boca Juniors vs Santos scrap would simply not be the same if it was not proceeded by a bit of Beethoven's 9th.
GAMEPLAY: Konami have really gone to town on changing the core mechanics of the game, with some utterly superb changes being made to the control system. The best way of finding out what is new is by accessing the Performance Training mode, which introduces you to all of the tricks of the trade in a series of drills which cover all facets of attacking and defending styles.
There is much to discuss but I simply have to begin by saying how impressed I was by the shooting. You can hit some fearsome shots on goal which hark back to classic Pro Evo games of times past, or curl the ball with unprecedented levels of finesse. Like passing, you can choose whether to do this manually or not, giving experienced players more say over where and how their shot is placed. The amount of variation is incredible. There is the knuckleball, activated by tapping the shoot button just as your player is about to strike the ball. This can also be utilised on free kicks. And the curling shots, my oh my. Holding R2 allows you to curl the ball beautifully. The first time I pulled off a finesse shot of this type was in the training arena, where you have to approach the goal from the left wing and curl the ball into the far right corner. The feeling of elation as the ball perfectly swerved exactly where I expected it was something else, so when I nailed it in an actual game it was one of the finest moments in my (virtual) football career. Even without using the manual shooting controls, the overall shooting system has been improved tenfold. If you are controlling a player who is well known for knocking in worldies from outside the box, and you time it right, then chances are you can slot home the occasional utter screamer.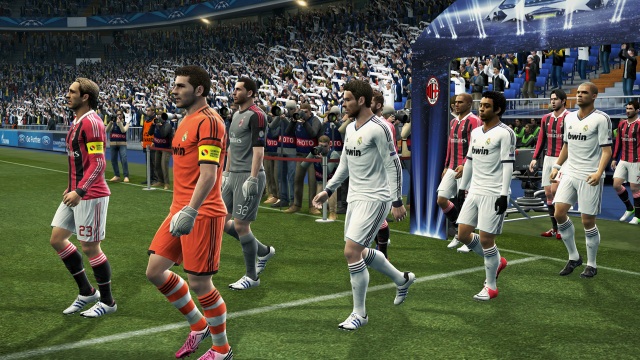 Passing is controlled in two ways. You can select whether you want your passing to be assisted, which means that simply tapping the X button will intuitively try to find the nearest player with the most appropriate pass. You can also use the manual passing method, where you control which direction you pass in, and with how much power. Handily, holding L2 will provide you with an arrow at the player's feet which for the purposes of manually shooting or passing, will give you a guide as to which direction the ball will travel. What this means is that once you get used to it, manual passing can be used to thread expert balls through defensive lines, or even pull off audacious reverse passes to baffle your opponents.
The other nuances of the control system also assist your shooting. You can now manually trap the ball on your chest and position yourself for a shot. It is tricky at first but pull one off, as I managed to with the abhorrent Zlatan Ibrahimovic (I had forgotten he now plays for PSG when I chose them), and you will be wanting to save it to for future replays (as I have done).
There are plenty of other tricks to learn. You can trap the ball, flick it up, and then flick it over your shoulder (and hopefully, the defender). You can pull off some impressive shimmies and stepovers, but also a neat "run around" where you flick the ball outside of your man and run around to collect it on the other side. Nutmegs are actually manually controlled, rather than just a random occurrence, and apply to one on ones with the keeper, leading to some memorable goals (and gaffes). Dynamic one-two is another particularly effective new technique – you can now pull off the one-two using L1 and pass, however you can then use the right stick to control which direction the player who has just passed the ball moves in, determining the position that they will receive the ball. This can be used in a number of ways, such as to set up a shot or a cross, in addition to the more traditional one-two used to penetrate the defence. I cannot remember this type of one-two ever being used in a game before, and it is a potentially devastating tool if mastered.
Some of the tricks are extremely difficult to pull off without practise, which is why I would urge anyone picking up PES 2013 – even those who would consider themselves veterans – to make sure they have a good run through the Training mode before doing anything else.
Believe me when I say that you will require all of these unbelievable tekkers to win at PES 2013. It is bloody difficult, but this is because it is realistic. You cannot expect to simply take the ball on a mazy run, beating every defender on the pitch before busting the onion bag with a twenty five yard piledriver. You cannot expect every pass to come off either, the defensive AI is hard but fair, they are there to win back the ball or hold their shape and they do so effectively, and as the tutorial shows, the game gives you the tools to defend tightly, too. The most successful sides in football today are those who can keep the ball well and unlock defenses methodically. Spain are the best team in the world, and they have triumphed in three back to back tournaments by using the impeccable ball-retention skills of Xavi, Iniesta and co. PES 2013 does not eschew other styles of play, but I found that the methodical approach certainly pays off. Simply hoofing the ball forward or trying to outwit defenses with speedy wing play (like my circa 2002 use of diminutive Nigerian speed demon Tijani Babangida) will not pay dividends. That said, using skill and timing to beat an opponent, whether it is via use of the dribbling skill set, or by use of a deft touch, can open up acres of space for you, just as it would in real life.
Thanks to the Player ID system, PES players behave as you would expect them to in the real world, too. And by that I don't mean that they post racist Tweets, have sex with their mate's wife and then crash a Bugatti Veyron into the side of a casino – they play in PES as they do on the pitch in real life. A player like Vincent Kompany is dominant defensively and in the air, but also has excellent control, befitting a player who has starred in midfield in the past and who is accomplished in possession. Ronaldo, Messi, Iniesta and Neymar are all blessed with supreme control, and are more adept at the stunning trickery at your disposal. Andy Carroll on the other hand is more of a marauding forward who is terrific in the air and good at knocking the ball down. Wingers or fullbacks with renowned crossing or dead-ball abilities are also noticeable – a Leighton Baines or a Dani Alves can zip the ball into the box more effectively than a powerhouse like Hulk. Even goalies are noticeably different, a world class keeper like Buffon or Casillas is able to make stunning desperation saves or react more effectively to the action around him, than a bumbling oaf like David De Gea (I jest, I jest).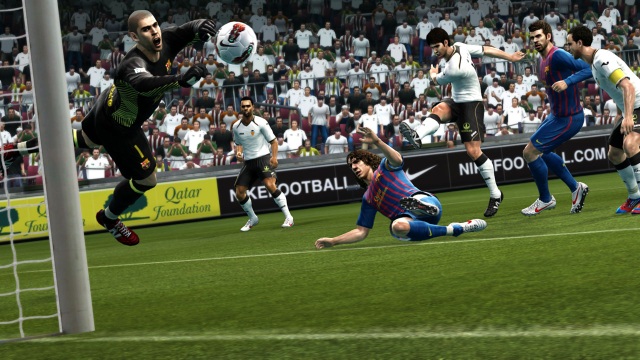 LONGEVITY: There are stacks of licensed teams including fully represented Dutch, French and Spanish leagues. Manchester United are still included, which has to be said is something of a coup. The game gives the opportunity to play in real-life tournaments like the UEFA Champions League, or even the ultra-interesting Copa Libertadores – a big selling point, particularly given that the South American side of things can often be neglected in the big football releases.
In addition to the fun training modes, there are loads of other ways to play. Football Life gathers together PES staples like Master League, Become A Legend and Master League Online into one hub. There are plenty of new additions to these modes, such as earning money to improve your team, coaches who work with specific areas of the team, and a more in depth, logical transfer system. The management aspect of the game is now much improved, and you will need to ensure that you keep your players happy. Expect plenty of Tevez-like sulking if a player isn't getting games, for example.
Online play has been bolstered by the addition of better use of myPES, which now allows you more connectivity to Facebook to rub it in big style when you give your mates a good hiding, and there is also a "Rival Ranking" system for Master League Online, which tracks players from your local area and let you know when they are online.
VERDICT: PES 2013 is a very rewarding game that marks a big change in direction for the series. I really enjoyed playing it, far more so than I have any other football game in the past two or three years. The reason for this can be largely attributed to the excellent control scheme, in particular the shooting and passing. To begin with I almost gave up, I will be honest with you. But I stuck with it. I practised. Then I started winning. Then I started winning using fancy footwork and tricks. Then I learned how to defend. It all slots into place.
Konami have implemented their online modes and the overall hub of the game in a fashion that is very much in the here and now, and can be compared to the excellent set ups in the recent Madden and NHL games. Having everything under one umbrella, like the Football Life or Connected Careers, certainly seems the way forward.
It isn't perfect. Fully licensed kits and teams are unfortunately a deal-breaker for some loons, but this wasn't my beef with PES. There are a few silly niggles, like the high probability your opponent will score from any free kick within a few yards of the box, or the way the goalkeeper distribution can be a little haphazard.
These are small niggles though. This is an improvement on Konami's 2012 effort and presents football fans with a real dilemma over which way to go this year.