Sonic the Hedgehog & Pollyanna Woodward Open WCG Games at Eurogamer Expo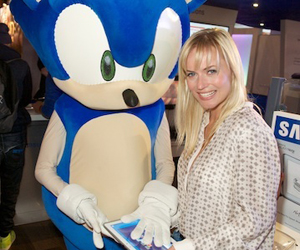 Sonic + Pollyanna = A teenage boy's dream. The blue hedgehog and The Gadget Show presenter Pollyanna Woodward, opened up the World Cyber Games at Eurogamer Expo. Samsung are sponsoring the tournament, which kicked off yesterday and will continue until Sunday, 30th September.
At the Expo, Samsung's stand will be hosting the national final of the WCG FIFA 12 competition. Gamers at the event will battle it out with the winner going onto the finals in China, next December. The prize money is a whopping, £250, 000 – so, think of it like getting the jackpot in Deal or No Deal. But, talent is required in this instance.
The WCG FIFA 12 competition is open to anyone who thinks they can hold their own, and of course, represent the United Kingdom in China, come December.