Cuddly Toy Massacre in Live Action Trailer for Naughty Bear: Panic in Paradise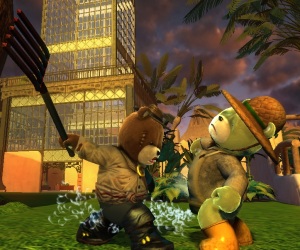 The world waited with trepidation as a Naughty Bear sequel came out last week…which our own Martin Baker quite enjoyed. Martin said "it's a massive improvement" in his review, when comparing the downloadable title to the original Naughty Bear.
Today, it was announced that the game will be getting some downloadable content in the form of more costumes and weapons. There's no date on when the content will be coming to the consoles' respective marketplaces, yet.
In celebration of this announcement, a new trailer has been released. You may know him as a Strictly Come Dancing host, but I'm sure that Bruce Forsyth doesn't forget his time on The Generation Game…So, if you're reading this Bruce, don't press play. I've seen the elation on your face when a cuddly toy shows up.
Everyone else, watch and be entertained.
Naughty Bear: Panic in Paradise is available now on PlayStation Network and Xbox LIVE Arcade