Forza Horizon Demo Now Available to Download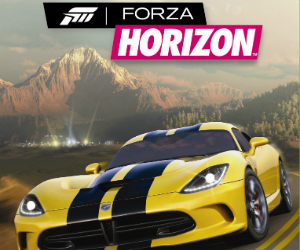 That's right folks, you can now check out Turn Ten and Playground Games much anticipated open world racer for yourself, some three weeks before its full retail release.
We've been covering and building up to the release of Forza Horizon here at GodisaGeek for what seems like an eternity now, but here we are, just a few weeks from its release, with a Demo now available to download and play from Xbox Live. Yep, we're deep into 'silly season', and the games will just keep on coming from now til' December. We love it.
In the demo, players will experience the fictional Colorado of "Forza Horizon", driving a sampling of cars from Horizon's line-up across a variety of different event types – from Horizon Festival events taking place on the dusty dirt roads to a street race that find players winding up, around, and over the Finley Dam.
Players who download and play the Forza Horizon demo and then purchase and play the full game online will receive a specially designed 2013 SRT Viper GTS, celebrating Forza Horizon's "gone-gold" status. This liveried car will only be available to those who download the demo, then purchase and play the game online.
The Forza Horizon Xbox LIVE demo requires an Xbox LIVE Gold account, and the full game will be released on Xbox 360 October 26th. Stay tuned to GodisaGeek for all the latest, as, of course, we will have a review for you to sink your teeth into closer to the games release date.