Forza Horizon Review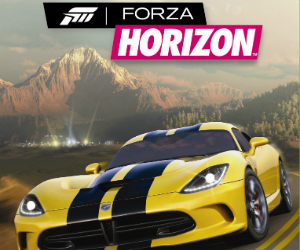 Game: Forza Horizon
Developer: Playground Games/Turn 10
Publisher: Microsoft Studios
Available on: Xbox 360 Only
Here we are, folks. Another racing game in a month that seems to be dominated by the things. We've had Formula 1 2012 and WRC 3 in the last few weeks, not to mention a flurry of information about Codemasters' much anticipated racing sequel GRID 2, and then the build up to this game. Ah, this game. Forza Horizon, touted as a departure from the hyper focused track racing simulation of its forbears, there has been a worried expression on the faces of people here at GodisaGeek.com, will Playground Games be up to the job of producing a game on the same planet as Turn 10's mighty efforts? And what's all this stuff we've heard about open worlds, free roaming and…'banging beats'? Did Forza Horizon extend my racer fatigue? Or did it show me the light?
STORY: We wouldn't normally include anything about a story in a racing game, especially one bearing the name 'Forza'. Horizon is different however, as it offers up a small slice of story cake for players to sink their teeth into. Don't expect GTA levels of open world storytelling, but what is here is enough to make this 'more than just a racing game'. You adopt the role of 'The Unknown Driver' as he journeys to the Horizon festival in Colorado, where you will compete in races against other drivers in an effort to become the ultimate champion. Along the way you will encounter various characters that are touted as your rivals, with extra rewards on offer if you can beat them in the races. It's all pretty basic stuff, but it adds a layer of intrigue not seen in many other racing games. The minimalist story serves as a boost of motivation, with the 'rivals' put in front of you often being the sort of person you would steer clear of on a night out.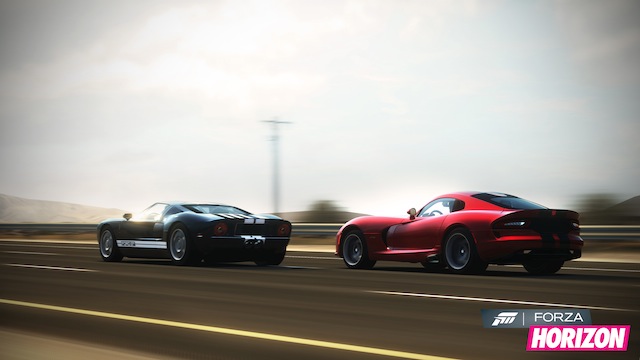 GRAPHICS:  A couple of weeks back we took a look at Formula 1 2012 and said that games developed for Xbox 360 as their lead platform were starting to show the console's age. Yet, here we have a game that takes that opinion and smashes it to pieces. Forza Horizon is a beautiful game. It takes a chunk of the state of Colorado and reproduces it glorious detail. What's shown here isn't hyper realistic, but rather a slightly stylised version of a hyper-real environment. Everything in Forza Horizon looks like it was taken out of an animated movie, it has a sort of lovable quality about it. That's not to say that it looks dumbed down or childlike, just that it is a pleasure on the eye. The game operates on a day night cycle, when the sun rises and falls Forza Horizon will take your breath away, as you blast through the desert in a stunning supercar, looking out at the sunrays punching through a glorious sky scene. As you would expect from a Forza game, the car models are a joy to behold for car nuts, especially when viewing them in garage mode. I doubt very much that a Ferrari F40 looks much better in real life than it does in Horizon.
SOUND: Being a game that is all about style, atmosphere and partying, Forza Horizon needed to bring the noise, and it does so in spades. Featuring three distinctly flavoured radio stations to choose from (Rock, Bass and Pop) there should be just about enough choice here to please the ears of most people. Or at least not offend everyone. Each of the radio stations are hosted by their own DJ who guides you through track names, while keeping track of the progress of 'The Unknown Driver' or 'The New Guy'. It works a lot like the radio stations in GTA, as in game events get covered on the game's radio station. It's a nice little addition that helps bring the world to life. Of course you can turn the radio off altogether if you wish, but I found it a welcome companion during my time at the Horizon Festival.
Away from the radio you will hear the sounds of engines great and small, with their sounds reverberating off the environment that surrounds them. When you get into a race with a cluster of V8 powered brutes, the combined noise is like a grease powered orchestra.
GAMEPLAY: It's all well and good looking good and sounding great, but ultimately Forza Horizon has to be judged on its racing credentials. Forza Horizon breaks from the trappings of its namesake simulation forbears and utilises an arcade racer like approach seen in games like Burnout and Need for Speed, throw in a big dollop of Test Drive Unlimited and, well, you'd be pretty close to Forza Horizon. So we know that Forza Horizon is 'a bit like other games', but is that a bad thing? Well, no, it isn't, because Playground Games looked at the competition and said "we can do better" and, you know what? They have.
You start the game as a rookie driver on route to the Horizon festival in Colorado, which acts as the hub for all the races you will take part in during the game. At the hub itself you will find paint shops, garages for upgrades etc, as well as your own garage and access to car lots, where you can pick up some new wheels. Oh, and a never ending fireworks display. Seriously, the firework budget at this festival must have been MASSIVE.
In the beginning you only have the car you rolled up in, a VW Corrado VR6, which isn't a bad starting place. I've wanted after one of those bad boys myself. Your experience level is shown by the colour of the wristband that you have been awarded, and as you get better and take part in more races, the colour of wristband awarded to you changes and you are able to enter the next tier of events, and so on and so on until you are the boss and everyone loves you. Easy right? It is, at first, and for a while there isn't much of a challenge to be found in Forza Horizon, but by the time you find yourself driving about in Ferraris and Lambo's, well, you better be ready.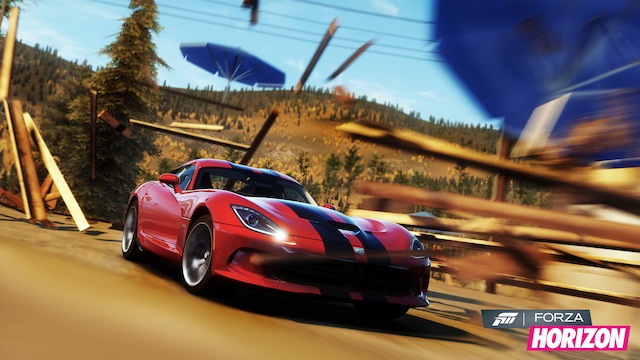 The car handling in Horizon is epic, and it feels very obvious that it is part of the Forza family of games. The difference in handling characteristics between vehicles is often subtle and yet glaringly obvious all at once, as you find yourself readjusting how you approach corners from car to car. One big difference I noted was that it's a fair bit easier to get sideways in Horizon, something that is perfectly suited to a game such as this. You can avoid drifting all together if you want, but I found myself drifting everywhere. It's just too much fun.
When you want to get into a race you simply bring up the in game map with a press of the Back button, point to crosshair at the race you want to go to, and the in game sat-nav will guide you there. Think GTA IV mapping, and it works just as well. You will find events come in all shapes and sizes, often suited to a certain type of vehicle, from a certain country or from a certain era. The variety of races in each wristband tier keeps things feeling fresh throughout.
There are 250 racers taking part in the Horizon festival, when you turn up you are at the bottom of the pile, at 250. It's your goal to get to the top, and you do this by racking up style points while driving around and taking part in races, which increases your popularity. I found this to be a welcome distraction when driving through the pretty sizeable world, as it invites you to wreck scenery, go for near misses with traffic and drift til' you can drift no more.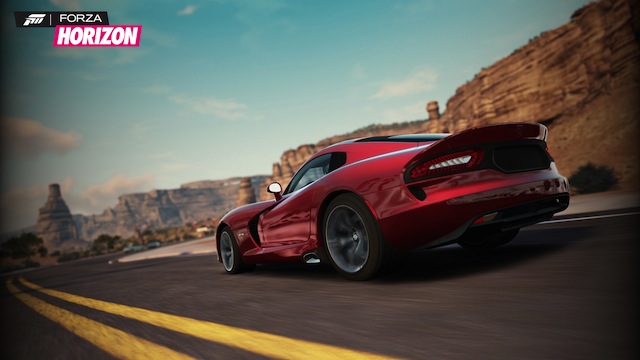 The racing itself is competitive once you get to the higher levels, one gripe I do have is that the A.I. seems to use a rubber banding effect to catch up when you go out into the lead. I found that I rarely left my competitors in the dust, they always seemed to cross the line a second or two after I did. This extended to times when I would be in a car that was obviously more powerful than my compatriots, yet they would easily beat me off the line or keep up when I was in front.
Multiplayer is served up in the usual ways here, you can get into a quick head to head race or compete in head to head 'seasons'. There are a choice of game lobbies which aim to cater for players of all experience levels, up to eight players can get into a race. I found it easy enough to get into a game, and I imagine the servers will be brimming when the game launches. On top of this, there are mini-challenges whilst experiencing the single player, too. For example, you'll see leaderboards that showcase efforts by friends, giving you the incentive to beat them.
LONGEVITY: If you want to make it to the top at the Horizon Festival it'll take you a while. Once you get to the upper echelons progress is slow, and winning races becomes a challenge rather than a foregone conclusion. If you want to drive on every road, compete in every event and drive most of the cars, you'll get a shed load of value from the game. If your buddies pick this up too then you are laughing.
VERDICT: I had my reservations about this game in the build up to its launch. Changing the tried and tested Forza formula didn't seem right, but having played and loved every minute of my time with Forza Horizon I have to hand it to Playground Games, who in their first big budget title have delivered an absolutely stunning game. If you are the kind of person that enjoys looking at cars, then you probably already love Forza, but if you haven't given one a whirl yet then you'd be mad not to try this game. It is a love letter to car lovers and a game you simply have to experience.