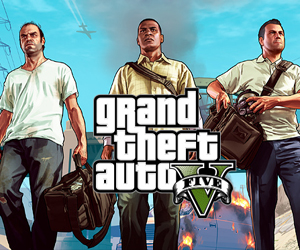 If you're a stickler when it comes to spoilers, I wouldn't read on, however we're not sure about the full details on this one. 
Rockstar Games Co-founder and Head Writer Dan Houser was recently interviewed by New York Times and revealed a bit of a doosie, which was then picked up by OXM.
"Just at the conceptual level, the idea was three separate stories that you play in one game, the next bit was, let's not have the stories intersect once or twice but have them completely interwoven. It felt like it was going to be a real narrative strength: you get to play the protagonist and the antagonist in the same story."
When said so nonchalantly, it's difficult to know whether the character Houser is talking about is the true baddie of the piece. Also, it's not known which of Grand Theft Auto V's playable characters he's speaking about. Is it Michael, Trevor, or Franklin?
We broke down all of the details we know so far on GTA V in nice digestible bullet points, so you can catch up there, but if this was a slip from the Rockstar boss, this was a big one. Knowing that one of the good guys is really a bad guy from the get-go, is pretty immersion breaking, but then, it may also be pointed from the very beginning.
In a lot of big AAA titles, a lot of information is known going in, it would've been nice to get to Spring 2013 not knowing that there is a twist on the cards from Rockstar.
Grand Theft Auto V is set to release in Spring 2013 for Xbox 360 and PlayStation 3