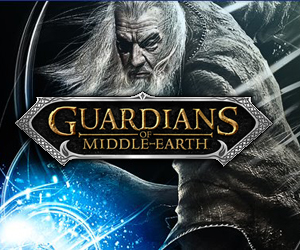 Warner Bros. Interactive Entertainment have released the latest Battle Profiles trailer for upcoming online battler Lord of the Rings: Guardians of Middle-earth. The short video showcases Dwarf warrior Thrain (father of The Hobbit's Thorin Oakenshield) and Uruk-hai nut-job Gothmog, one of the Witch-King's loyal soldiers.
Both are playable characters in the upcoming MOBA (Multiplayer Online Battle Arena) game, Guardians of Middle-earth, which will see 20 iconic characters from the Lord of the Rings franchise (the trilogy, extended universe and Peter Jackson's adaptations all included) thrashing it out against hordes of enemies and, more importantly, each other.
On the surface there's not much between the two, but while Thrain's talents focus mostly on buffing and rallying, Gothmog is all about busting heads and taking names. Each of the 20 playable characters has a unique skill-set and fighting style, and it will take time and patience to master them all. Check out the video below to see Thrain and Gothmog in action.
Guardians of Middle-earth will be available to download from PlayStation Network on December 4 and from Xbox LIVE on December 5.