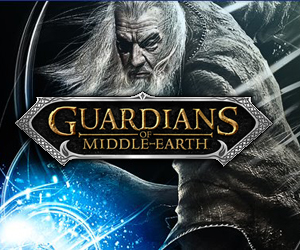 The Lord of the Rings Multiplayer online battle arena title – Guardians of Middle Earth – was released late last year, becoming the first MOBA game to be developed exclusively and specifically for the home console market.
We have already seen two new downloadable Guardians made available last week, in the forms of the Dwarf Gloin and the Enchanter Radagast, and now Monolith Productions have announced the release of the third new DLC Guardian – Snaga the Goblin. A powerful striking character, his different abilities help round out the roster of existing Guardians. He has been released this week, and will be free to all Season Pass holders for the game, as will one other forthcoming DLC Guardian.
See the full character profile for Snaga here:
Snaga's Bio:
A powerfully motivated Goblin, Snaga is hungry for flesh and stubborn enough to browbeat anyone or anything to get exactly what he wants. With a perfect build for sneaking and the mental capacity to backstab any who fail to bend to his will, Snaga's rank as a lieutenant was earned by a driving desire to fulfill evil tasks by any means necessary. His knife has seen the blood of many foes and serves as an excellent tool for his nefarious agenda.
Snaga's Gameplay Abilities:
A Mouthful: Deals damage and gains health
Ravenous: Stuns a marked target
Famished: Extra damage and resistances; weakness against marked enemy Guardian
Salivate: Marks enemy Guardian and gains movement and attack speed
Snaga's Class:
• Striker
See Snaga in all his glory in the trailer and images below:
[nggallery id=1323]
Guardians of Middle-Earth is out now on Xbox LIVE Arcade and the PlayStation Network.