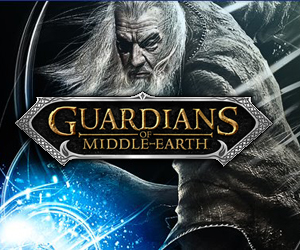 The first Multiplayer Online Battle Arena title developed specifically for the home console market on Xbox LIVE and the PlayStation Network – The Lord of The Rings: Guardians of Middle Earth – has had an extra playable character added to the title.
Guardians of Middle Earth launched in December last year, and Warner Bros. Interactive Entertainment and Monolith Productions have now added the Wizard Radagast as a new playable Guardian in-game. This update is out now for Xbox LIVE and will be coming to PlayStation Network soon. This addition also allows players to take part in a new challenge – "The One Road" – which takes place this weekend and will allow players to compete for the "Most Wins on a One-Lane Map" between Feb. 1 and Feb. 3, with a priza of 500 XP, 20,000 Gold, and three Mithril level items on offer.
Radagast marks the next epic addition to player rosters in Guardians of Middle-earth, with Season Pass holders set to receive three more battle-hardened Guardians in the coming months, and more to come as well. Players will also get a chance to sink their swords and hammers into the new Survival mode very soon!
Here is the character Bio for the new addition:
Radagast's Bio:
Radagast, one of the Maiar, is also known as the Brown Wizard and has an exceptional knowledge of the fauna and birds of Middle-earth. Hailing from Valinor in the Third Age, his original name was Aiwendil, meaning "bird-friend" in Elvish. He would go on to advise Gandalf the Grey before being unwittingly used by Saruman to lure Gandalf to Orthanc, ultimately leading to his capture during the War of the Ring. His fate after the War of the Ring remains unknown.
Radagast's Gameplay Abilities:
Vibrant Glade: +Attack Speed, Reduced Controlling Effects
Blackbird Song: Deals True Damage and Blinds Enemy Guardians and Creatures
Whispering Leaves: Deals Ability Damage, briefly Silences
Roots of Greenwood: Roots Enemies, slows and deals Ability Damage
Radagast's Class:
Enchanter
See a new trailer for the Wizard Radagast below:
Guardians of Middle-Earth is out now on Xbox LIVE Arcade and the PlayStation Network.