Now You Can Listen To The Greatest Video Game Music 2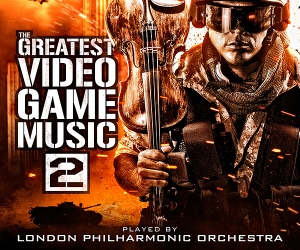 A new orchestral album provides beautifully arranged and performed renditions of videogame soundtracks old and new.
Personally, I'm a huge fan of videogame music; especially when talented musicians bring new life to the chiptunes of yesteryear. In previous years I've attended Video Games Live, Final Fantasy: Distant Worlds and The Legend of Zelda: Symphony of the Goddess – Musical concerts that have been some of the best musical events I've ever attended.
If you also have a passion for orchestral arrangements, then the release of The Greatest Video Game Music 2 could be right up your street. The original album was a fantastic collection of videogame music, and this new volume sounds even better – Just look at the track listing:
Assassin's Creed: Revelations – Main Theme
The Elder Scrolls V: Skyrim – Far Horizons
The Legend of Zelda: Wind Waker – Dragon Roost Island
Final Fantasy VII – One-Winged Angel
Mass Effect 3 – A Future for the Krogan/An End Once And For All
Halo – Never Forget/Peril
Sonic the Hedgehog – A Symphonic Suite
Chrono Trigger – Main Theme
Luigi's Mansion – Main Theme
Kingdom Hearts – Fate of the Unknown
Super Metroid – A Symphonic Poem
Diablo III – Overture
Batman: Arkham City – Main Theme
Deus Ex: Human Revolution – Icarus Main Theme
Fez – Adventure
Portal – Still Alive
Little Big Planet – Orb Of Dreamers (The Cosmic Imagisphere)
Arranged by Andrew Skeet and performed by the London Philharmonic Orchestra, this album has already taken the #1 spot in the iTunes UK Classical chart.
The album can be purchased now via Amazon or iTunes, and if you still aren't convinced you can download a free track (Halo – Never Forger/Peril) from the release's official website. A sample of the Assassin's Creed:  Revelations Main Theme can be listened to below:
The Greatest Video Game Music 2 is available now on iTunes and Amazon.