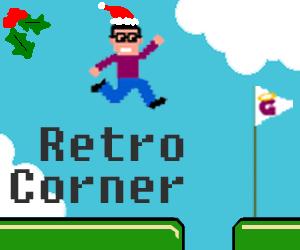 Last Christmas the Retro Corner tried something a little different from usual. Instead of selecting just one title from the past to focus our attention on, we took you on a journey through some of our favourite seasonal video games.
So now that the nights are drawing in, the temperatures are dropping and Santa Claus is checking his list twice, the Retro Corner is once again feeling very Christmassy. As was the case last year, not all of the games are specifically Christmas based, but they will be festive or wintery in one way or another. We still also want to hear your own list of Christmas titles. What games do you hold close to your heart at this time of year? Please leave a comment below and add your own ideas into the mix. Have we missed something that you play every year in the festive season?
So settle down in front of the fire, put your feet up and get ready for a selection of more of our top Christmas titles:
Winter Games (1985, Nintendo Entertainment System)
Currently available on: Wii Virtual Console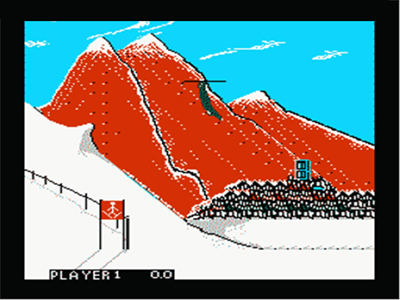 The Winter Olympic Games certainly take a back seat both in the popularity stakes and the video gaming world, but Winter Games was a huge hit when it was first released for the NES. The title let you take part in a variety of events, including skiing, bob-sledding, ski-jumping, skating and more. It played very much by the Track & Field playbook of button-mashing and following on-screen prompts, but the controls were simple enough that anyone could pick up and play the game for some competitive festive fun; and it was at its best in multiplayer.
Donkey Kong Country 3: Dixie Kong's Double Trouble (1996, Super Nintendo Entertainment System)
Currently available on: Wii Virtual Console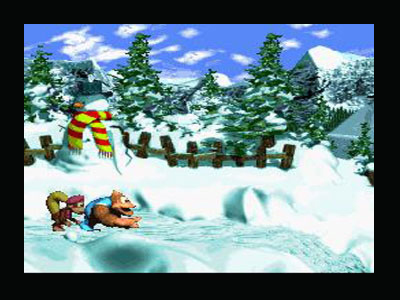 When you think of Donkey Kong, it is doubtful that many of you would also think of Christmas. In fact, by default, the game has absolutely nothing to do with the holiday season, but through the wonder of the secret cheat menu, players could enter the code "Merry", which would soon change all of that. After that, all of the bonus levels in the game turn into mini festive parties. The stars that you usually collect now appear as Jingle Bells (perhaps Jungle Bells?), all Bananas you collect are neatly wrapped Christmas presents and the stage music takes on a distinct Christmas theme. Not necessarily a Christmas game, but the cheat creates a lovely festive feeling.
Banjo Kazooie (1998, Nintendo 64)
Currently available on: Xbox LIVE Arcade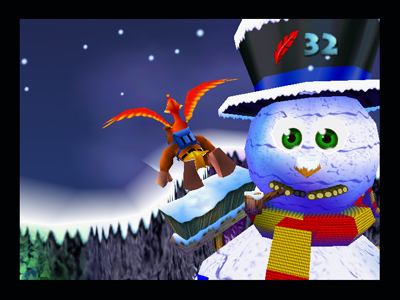 From this list, you are probably beginning to see that Nintendo consoles are probably the best places to look for Christmas video games. The Nintendo 64 was no different, as Banjo Kazooie's Freezeezy Peak stage possesses bags of holiday spirit. The level is based around a snow-capped mountain, where snowmen fling snowballs at you and there are Xmas decorations all around. Even the in-level objectives and tasks are full of cheer, with Banjo being tasked with delivering Christmas gifts to characters around the stage and helping to light the Christmas Tree which is found in the stage. The merry music only helps add to the atmosphere, making the area seem incredibly festive.
Fahrenheit (2005, PlayStation 2, Xbox, PC)
Currently available on: Xbox LIVE via Xbox Originals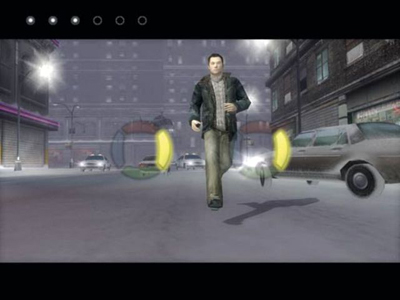 A game about possession, secret cults and bloody murder wouldn't always be immediately associated with the season of "Goodwill to all Men", but Fahrenheit goes a long way towards dispelling those preconceptions. Coming from Quantic Dream, the developers behind Heavy Rain, you know that you are in for a serious affair, but it is the copious amounts of snow that makes this feel seasonal. The weather in the game is a character in itself, and as a darkness is descending on the world and the temperature rapidly drops, New York in the game is submerged in snow, giving the title a strong wintertime vibe.
Daze Before Christmas (1994, SEGA Megadrive, Super Nintendo Entertainment System)
Currently available on: Sadly unavailable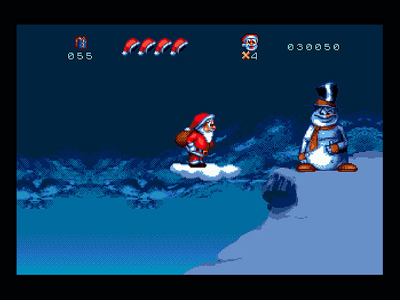 We should end perhaps with a title that is truly, unashamedly Christmassy. Daze Before Christmas sees players taking on the role of Jolly Old Saint Nick himself, as we have to help him save the holiday season after an evil snowman has kidnapped Santa's Reindeer and Elves, and has an army of snowmen, rats and soldiers on his side. Santa uses his magic to turn all of his enemies into presents, or jumps on their heads in traditional Mario Bros. style, but the strange aspect of the title is that when you drink a cup of coffee, players turn into Anti-Claus, his evil alter-ego who looks like the Devil in a suit, and rather than use magic, he is invincible for a short time and bashes enemies with his sack (sack of presents, of course). A strange title, but colourful, full of festive spirit and one of the few specifically Christmas-themed games ever produced.
The God is a Geek Retro Corner is part of "Feature Friday" and will return on the first Friday of next month. You can see previous entries into the GodisaGeek Retro Corner by clicking here.