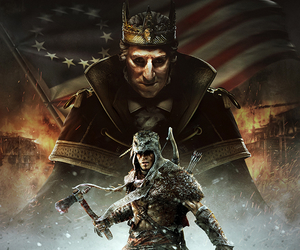 The release of the first story-based downloadable content pack for Assassin's Creed III is imminent, and we have now been given a confirmed release date for episode one of the DLC story – Tyranny of King Washington.
Entitled the Infamy, this will be the first episode of a three-part add-on adventure, and it will be released on Xbox 360 and Windows PCs on February 19 and on PlayStation 3 computer entertainment system on February 20. All Assassin's Creed III downloadable content packs will also be made available on the Wii U, but this will be announced and released at a later date.
In the first episode of the Tyranny of King Washington series, our hero, Ratonhnhaké:ton, awakens from an unsettling dream to find that, despite his efforts to deliver justice in the newly-founded United States of America, a new king has been crowned – George Washington. The Infamy will take gamers through the beginning of the journey to dethrone King Washington.
Gamers will be able to buy all of the episodes in the series as part of the Season Pass for Assassin's Creed III, which will also include any multiplayer maps and other add-ons that are released in the future. This pass costs 400 Microsoft Points on Xbox LIVE or £23.99 on the PlayStation Network and Windows PC. Alternatively, the episodes will be made available separately, for the price of 800 Microsoft points or £9.99.
This extra series of DLC is particularly interesting, because for the first time in the Assassin's Creed III series, the creators are changing and playing with history – presenting an over-the-top "what if?" style scenario. All the other games have been fairly faithful to historical events and characters where they featured in-game, so this will offer fans of the series something quite different.
Assassin's Creed III is out now on Xbox 360, PlayStation 3, PC and Wii U.