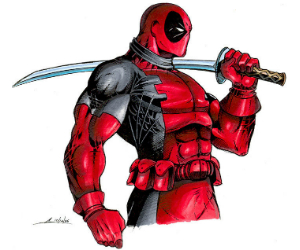 Deadpool – that wise cracking, sword wielding Marvel favourite – is getting his own game courtesy of High Moon. Now, Deadpool creator Rob Liefeld has posted on his personal website that joining the titular hero in the game will be telepathic X-Man Cable and a female version of the Death entity – who serves as something of a love interest to the infatuated loudmouth chopsocky ninja dude.
Cable is an undertandable conclusion seeing as the pair teamed up for their own odd-couple style comic book series back in 2004.
These two characters join X-Force mutant Domino, who was already announced to be appearing in the game at new York Comic Con 2012. Domino is of course another Liefeld creation.
Deadpool is due out at some point in 2013 for PlayStation 3 and Xbox 360.