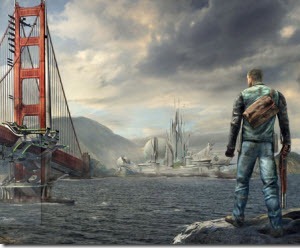 The second closed beta test for Trion World's futuristic shooter, Defiance, will launch on February 8 until February 10.
Advanced Mission Beta 2 will deliver more of the same multiplayer cream as the first, casting players as Ark Hunters and sending them into the danger zone of San Francisco to salvage valuable alien technology.
The game will launch in April to coincide with the premier of Syfy's brand new show, set on a reshaped Planet Earth where humankind has entered into an uneasy truce with our would-be invaders, a group of alien races known collectively as the Votans.
To encourage participation in Advanced Mission Beta 2, developers Trion Worlds have launched a Rewards program, whereby they have scattered numerous 6-digit alpha-numeric codes throughout various "media assets" in the public domain. Finding and inputting these codes will unlock a wide range of rewards from weapon skills to exclusive in-game vehicles.
You can sign up for the second beta event here, and details about the Rewards Program can be found here.
Defiance is due for release on PC in Europe in April 2013.