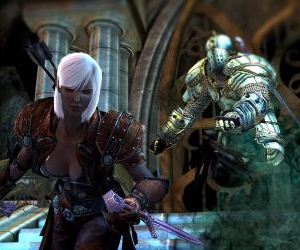 Developers Cryptic Studios have posted a two-part blog centring on the deep character customisation in upcoming Forgotten Realms-based MMORPG Neverwinter.
Set a hundred years after a magical cataclysm reshaped the land of Faerun, it focuses on Lord Neverember of Waterdeep's attempts to take the throne of Neverwinter, having already assumed the role of protector. To aid him, he has summoned heroes from all over the world of Toril to help him rebuild the city, and defend her against the evil forces of chaos that threaten not only his claim, but the fate of Faerun itself.
In this two part blog, the developers talk about the deep character customisation options available to the player, allowing for thousands of unique avatars from the game's playable races (which include Human, Half-Elf, Elf, Dwarf, Drow and Tiefling – with more to be revealed).
The first part goes into detail about how your choice of race affects your starting stats, and explains how those stats can be tweaked along with your character's appearance (features, dimensions, hair, eye and skin colour, tattoos, scars and various race-specific embellishments) to create a truly one-of-a-kind adventurer.
The second part builds upon this, highlighting the importance of equipping the right armour and weapons for each race and class type. For hardened MMORPG veterans, it's like being told how to suck eggs, but both blogs are highly detailed and, combined with the wealth of information on the site and the screenshots and trailers below, help to paint a picture of the adventuring to come.
If you're interested in signing up for the beta, you can register here.
[nggallery id=1254]
Neverwinter is due for release on PC in 2013.